Growing Buddhist community of Seattle excited over Dalai Lama visit
By William Yardley, IHT, April 11, 2008
SEATTLE, WA (USA) -- The Baptist church that once stood on a residential corner in this city's Greenwood neighborhood was long ago converted to a Buddhist monastery, pillows in the place of pews.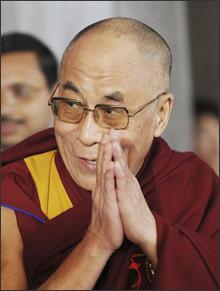 Outside, a bright white stupa stands amid half-million-dollar bungalows, some with signs in their windows reciting current creed: "Another Neighbor for Peace and Justice."
"It's a spiritual city, perhaps more than a religious city," said Chuck Pettis, president of the Sakya Monastery, where three monks practice Tibetan Buddhism.
Spirits here are soaring these days. More than 150,000 people are expected to flock to hear the Dalai Lama during a five-day conference starting Friday.
The visit by the Dalai Lama, who arrived here on Thursday afternoon on a flight from Japan, is his first to the United States since the onset of international protests over the crackdown in Tibet. But the trip was planned long before the recent troubles, and in any event he is not expected to make radical demands for Tibetan independence.
Nor, for that matter, is he expected to guest on bass or bellow backup vocals when he joins the rocker and local organic parent Dave Matthews onstage here Friday evening.
The expectation, instead, is that he will stick with what got him here, "dialoguing" about the importance of an inclusive kindness and compassion: pitch-perfect preaching for an area with one of the country's lowest rates of church attendance and a widespread lack of interest in mainstream American religion.
"How can you argue about compassion?" said Dan Kranzler, whose charitable organization, the Kirlin Foundation, has been the lead fund-raiser for the conference, called Seeds of Compassion.
The last time the Dalai Lama visited Seattle, in 1993, his total audience was perhaps a tenth of what is expected this time. In addition to the Dave Matthews concert and a variety of other events, including an address at the University of Washington, he is to speak at Qwest Field, home of the Seattle Seahawks. More than 50,000 people are expected there.
The conference will feature workshops on topics as varied as scientific studies of compassion, business issues and ideas for improving foster care.
"It's got nothing to do with religion," Kranzler said.
Much of Seattle has long had Sunday mornings free. Some Lutheran churches in the old Scandinavian fishing neighborhoods of Ballard have been converted to housing. Churches downtown have been sold. The Episcopal cathedral, on a hill overlooking the city, has struggled with budgets and internal politics.
Yet Pettis, of the monastery, estimated that more than 100,000 people now practiced Tibetan Buddhism here, by most accounts a huge increase in the past two decades, even if the noninstitutional nature of Buddhism makes clean counts elusive.
People have long moved to Seattle "to separate, to differentiate themselves from their families and their traditions," said James Wellman Jr., an associate professor in the comparative religion department at the University of Washington. "And then they get here, and there's not many people, so there's this sense of isolation. There's an ambivalence about it. They both love it and they wonder, 'Well, how can I connect?' "
Spirituality and self-help sections in bookstores do well, neighborhood farmers' markets thrive, and craigslist is the place to go this week if you want to buy tickets from scalpers to see the "simple monk" from Tibet.
Wellman said it was striking that little had been made of the fact that the Dalai Lama was speaking at a public university, where he is also to receive an honorary doctorate, and that his visit was being openly supported by many local elected officials. Should Pope Benedict XVI extend his United States visit to Seattle, he said, "that would cause so much tension: people would fear church-and-state problems."
Tibetan Buddhism "gets a pass," he said, in part because many people here say it is not so much a religion as "a spiritual way of being in the world that's about nonviolence and peace."
Still, the visit is stirring tension. A group of Chinese students met this past week with the university's president, Mark Emmert, seeking assurance that the Dalai Lama's visit "has no political agenda, and that his speech will not arouse any anti-China sentiments on our beloved campus," according to a letter the group posted online.
Afterward, the students posted another letter saying Emmert had assured them that the university would nurture a "harmonious relationship" with China and "make sure that no sensitive and political questions would be raised during his speech."
Norm Arkans, a spokesman for the university, said "we're not censoring anybody." But the focus of the event was not Tibet, he said, adding that the university had rejected attempts by the Chinese government to cancel it.
Ron Chew, a former director of the Wing Luke Asian Museum here, said he was struck by the array of responses the visit was generating, from the Zen and zeal of the yoga and feng shui faithful to the concerns expressed by the students. And then there are the Chinese nonprofits whose leaders, he said, have been wary of trying to raise money in recent weeks for fear of an anti-China backlash.
Chew, who is on the steering committee for Seeds of Compassion, said he was still deciding whether to attend the main event at Qwest Field.
"Somebody was joking with me," he said. " 'You know, I think I can feel the compassion sitting in my house watching it on cable.' "
Relay moved over false report
A false report on a police scanner helped persuade city officials to alter spontaneously the Olympic torch route on Wednesday, Heather Fong, the police chief, said Thursday in San Francisco.
Fong said in a news conference that the police had been told that a Chinese Olympic bus, possibly carrying the torch, had run over and injured protesters on the planned route along the waterfront.
Fong said she did not know which officer or agency issued the report, adding, "Somehow we were given that information."
The chief said protesters surrounded and vandalized an Olympic bus that carried members of the relay's delegation and that protesters believed carried the torch. No one was injured or arrested at the scene.
The police said they were also concerned about several thousand protesters who spilled past barricades to block the route and might be "unwilling to move."