Stopping violence
by Maura Quigley, Gonzaga Bulletin, April 25, 2008
Spokane, WA (USA) -- The problem of violence and its devastating effects is evident to the human condition. The source of the problem, however, is something no one seems to understand.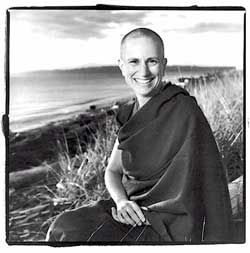 << Thubten Chodron will speak at Gonzaga and offer Buddhist wisdom and understanding concerning the problem of violence
Gonzaga University and the religious studies department are seeking to shed light on and better understand this problem that continues to plague society.
On Wednesday, the highly-renowned Buddhist nun and student of the Dalai Lama, Thubten Chodron, will speak at Gonzaga and offer Buddhist wisdom and understanding concerning the problem of violence.
"Violence is an issue that is all over the news and an issue which many Gonzaga students can relate to because it plagues our world," said assistant professor of religious studies John Sheveland. "It is the job of adults, intellectuals and people who care about the world to better understand the causes of violence and how it can be impeded. Even if violence can never be eliminated, there is something to be said for being able to understand it to use as a tool to stop it."
According to Sheveland, Thubten Chodron is an American-born, Tibetan Buddhist nun who is the head of an abbey in Newport, Wash. Chodron travels around the world teaching the principles of Buddhism and how they relate to the Buddhist understanding of violence. Chodron has published more than 10 books discussing the Buddhist tradition of what violence is and the reasons for its occurrence.
"She will essentially be giving her audience the impression of what kinds of resources are in Buddhism principles and ideas to understand what violence is," said Sheveland. "She will be talking about those principles in relation to shedding light on what is in the minds of people prior to acting violently."
The Buddhist tradition is centered on the mind and analyzing thought processes to reach Enlightenment. By employing a Buddhist approach to problem solving, Chodron will offer students and faculty an understanding of violence by examining the thought patterns that result in such acts, Sheveland said.
"Chodron will tap into the thought processes, attitudes and viewpoints that for whatever reason give rise to violence," Sheveland said.
By making people aware of these attitudes, according to Sheveland, people will become more aware of thought processes and other things they may be doing that may be more likely to result in violence.
"Considering all things we read and hear about in the news today, I think it is really important for students to better understand and get insight into the root cases of violence," junior Kelsey Brennan said.
Chodron has long coveted the oppurtunity to speak for Gonzaga students. She feels that sharing Buddhist insights on non-violence will be a valuable oppurtunity for college students.
"Thubten Chodron and the rest of the nuns in her abbey have expressed their interest in coming to Gonzaga for a long time and their visit is long overdue," said Sheveland. "I think this will be a great way for a well-respected Buddhist scholar to speak to an audience that is largely unfamiliar in any form with Buddhism."
Such an interreligious event is something that Sheveland believes is not only crucial to a better understanding of violence, but also to an understanding of the world and other religions. Interreligious education and knowledge is something the Jesuit tradition has advocated throughout history.
"Whether a person is Christian or of no tradition at all, learning about key concepts of Buddhism can help fertilize one's imagination and think productively about life, the world and many things," Sheveland said. "You can really only stand to benefit from exposure to other religions because you have so many more resources at your disposal."