Obon Festival celebrates 42 years of Buddhist culture in Marin
by Beth Ashley, Marin Independent Journal, June 18, 2008
Marin County, CA (USA) -- IF CULTURAL DIVERSITY is your thing, come to the Japanese Obon Festival in Mill Valley on June 22.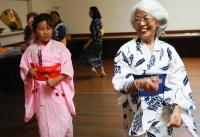 << Obon dance teacher Chizuko Shiro leads the practice at the... (Special to the IJ/Jean-Paul Horr)
The Japanese Buddhist community, which has been meeting in Mill Valley for more than 40 years, is staging its annual song-and-dance, food-and ikebana party. It will be on the indoor-outdoor premises of the Buddhist Temple of Marin, at 390 Miller Ave., next to Whole Foods market.
The Obon Festival is a cultural tradition and fundraiser - a kind of movable feast - that is celebrated on successive Sundays each summer (from late May to mid-July) at nine Japanese Buddhist temples throughout the Bay Area. Obon is a Japanese Buddhist custom to honor ancestral spirits.
"The festival is a chance for the general public to get a touch of Japanese culture," says temple president Larry Shaw, 68, a retired Exploratorium scientist.
The celebration - the 42nd annual Obon Festival in Mill Valley - will begin at 1 p.m. with a demonstration of Japanese flower arranging, ikebana, by teachers Kinsui Saiki and Julie Nakatani. Student arrangements will be on display throughout the hall, as will miniature trees (bonsai) created by temple members.
At 1:45 p.m., the Rev. Ronald Nakasone will demonstrate Buddhist calligraphy, and at 2:45 p.m., a group led by teacher Yoshiko Fujimoto of San Francisco, will perform Mishibana Kai, a classical Japanese dance.
If you are a fan of martial arts, at 3:30 p.m. the Hans Goto group will demonstrate aikido.
Throughout the afternoon, participants can buy special-recipe chicken teriyaki hot off the temple grill ($9); other Japanese favorites - chirashi sushi, potato curry ($4) - also will be sold, along with Japanese beer and soft drinks. Food service begins at noon.
Games of skill and chance will entertain children and adults in a backyard arcade.
Concluding events will begin at 4:15 p.m. when the Melody Takata Group of taiko drummers perform.
At 5 p.m., the Chidori Band from San Jose will play.
At 6:30 p.m., the Obon Odori will be performed, led by Chizuko Shiro of Corte Madera and Yoshiko Fujimoto.
Shaw says the Obon Odori dance traces back to the story of Maudgalyayana, a disciple of Buddha, who perceived his dead mother suffering in hell; he asked the Buddha what he could do to relieve her and was told to "do some practices that will generate virtue." A few years later he saw that his mother had emerged from hell, and "he did a little dance of joy."
"We celebrate that event," Shaw says.
The Odori is a traditional dance honoring people who have passed away, according to Elaine Weston of Sausalito, co-president of the temple's women's association. "Parents teach it to their children. I could easily have danced the Odori dances in Japan."
Festivalgoers are welcome to join in, Weston says. It is a slow circular dance and will be performed in front of the temple on the frontage road.
The Miller Avenue temple is the home for Marin members of the Jodo Shinshu sect of Japanese Buddhism, which was imported to America in the 1870s. The local congregation hosts Sunday services, Tuesday meditations, art classes, special holiday observances and other meetings throughout the calendar year. Formal memberships total 77, but a wide range of others participate, according to Shaw.
None of the members are first-generation (Issei) Japanese; the oldest members are Nisei, second-generation Japanese, many of whom spent World War II in American internment camps. The largest number are Sansei, or third-generation Japanese, many of whom have married Caucasians. "A fourth generation is coming along," says Shaw, himself a non-Japanese.
The congregation is led by supervising minister Carol Himaka, whose home temple is in Sebastopol. The Marin congregation is too small to support its own minister; when Himaka is not present, Buddhism students or longtime practitioners preside. A speaker is part of every Sunday service; sometimes it's Shaw's wife, Catherine, who holds a degree in Buddhist studies and has been a Buddhist since she was 16.
In the beginning, the local Jodo Shinshu group met in people's homes, but in 1960 it made a down payment on a former Boy Scout hall to establish the present-day temple.
Proceeds of Sunday's festival will go to temple upkeep.
The celebration also is a membership effort, with the Fujinkai women's association doing much of the cooking, the men setting up booths and chairs and and manning the ovens.
"Everyone knows what to do," Shaw says. "We have been putting on this festival for years. You can't imagine how cooperative it really is."
Integrated effort: It's an old Japanese tradition.