Ready for Obon?
By Johna Strickland, Argus Observer, June 27, 2008
Renowned annual event kicks off Saturday in Ontario

Ontario, OR (USA) -- Thursday morning she and other members of the Idaho-Oregon Buddhist Temple gathered in the temple's basement kitchen to prepare the first of the traditional Japanese food sold at the 62nd Annual Japan Night Obon Festival Saturday in Ontario.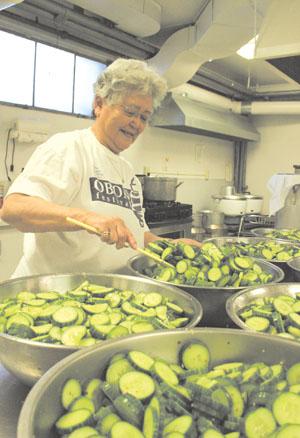 << Anna Nagaki, Payette, stirs the marinating cucumbers to make aloha zuke for the 62nd Annual Japan Night Obon Festival Saturday at the Idaho-Oregon Buddhist Temple, 286 S.E. Fourth St. The event begins at 4 p.m.
Obon starts with cucumbers for Anna Nagaki.
Following a handwritten recipe for aloha zuke, the members sliced more than 200 cucumbers into 12 metal bowls then added sugar, salt, vinegar, garlic and dried red peppers. By 11 a.m., they finished, leaving the cucumbers to marinate.
"They need to settle down (and) they'll drop in size," Nagaki, a Payette resident who has helped with Obon for about 30 years, said. "You're busy raisin' your family, then you get into it. Now (I'm) like a piece of the furniture."
Thursday, Nagaki said they had another day of cooking — egg rolls and chicken — ahead of them before the event's 4 p.m. Saturday start at the temple, 286 S.E. Fourth St., Ontario.

Saturday, a variety of Japanese dishes will be for sale from 4 p.m. to 7:30 p.m. while a mini tour of the temple's altar and sanctuary will start every hour from 4:30 p.m. to 6:30 p.m. At 6 p.m. drummers Sangha Taiko will perform. There will be a demonstration by the Western Idaho Judo Institute at 7 p.m. and at 7:30 p.m. Madame Fujima's students will showcase Odori, Japanese folk dancing.
"For us, it's like an open house," Rev. Joshin Fujimoto said, adding the Obon festival is a time for people to learn about Buddhism.
"People are curious and sometimes they get disenchanted with their own spiritual path," and seek something different, he said. The Obon festival and service, often celebrated in July, is a time to recognize "where we are today is because of the people before us," Fujimoto said.
Part of recognizing these ancestors comes in the Obon service, where the names of people who died since the last Obon event are read. Whether a family member has been lost or not, the congregation reflects and meditates.

"One of the key points in Buddhism is that we don't stand alone, we're all interconnected," he said. "We've all lost someone, and we will again."
Together with the festival, the service balances death and joy, reflection and celebration. A time to say "we've had all these opportunities, let's go out and dance," Fujimoto said. But to just dance without understanding the true meaning of Obon would be frivolous.
"To recognize the deeper side of things, then to dance completes the picture," Fujimoto said.
Obon is also about people, friends and community ties as Buddhism has three parts: Buddha, the dharma, or teachings, and the sangha — the people.
"One is nothing without the other two," Fujimoto said, noting the service and festival belong together, too.
The meeting of friends at the Obon festival spreads across the Northwest as people hop from one temple's event to another.
People will go there and eat and dance and then to the next one and they eat and dance," Fujimoto said.
Thursday, Fujimoto urged community members to join the circle of friends. Members who prepared for the festival for years have slowed down, he said, leaving the temple to seek new volunteers — Buddhist or not — to help out.