Fresno Obon Festival
KSEE News, Jul 11, 2008
Fresno, CA (USA) -- August 13-16 is called Obon in Japan. In the U.S. Japanese-Americans celebrate this important Buddhist event with an Obon Festival.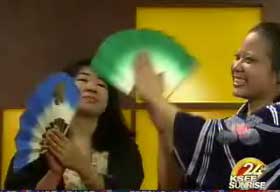 Multimedia Watch The Video Bon Odori originates from the story of Maudgalyayana, one of Buddha's ten foremost disciples, who used his supernatural powers to look upon his deceased mother. He discovered she had fallen into the Realm of Hungry Ghosts and was suffering.
Greatly disturbed, he sought Buddha's advice and asked how he could release his mother from this realm. Buddha instructed him to make offerings to the many monks who had just completed their summer retreat, on the 15th day of the seventh month, as an act of Dana.
The disciple did this and, thus, saw his mother's release. He also began to see the true nature of her past unselfishness and the many sacrifices that she had made for him. Maudgalyayana and everybody who saw this became so joyful that they began to dance. From this dance of joy comes Bon Odori or "Bon Dance", a time in which ancestors and their sacrifices are remembered and appreciated.
The Obon Festival takes place Saturday, July 12, at the Fresno Betsuin Buddhist Temple at 1340 Kern Street in downtown Fresno. The food booths open at 3pm. The temple history talks are at 2pm, 4pm, 5:30pm & after the dancing is completed at approximately 9pm (if there is interest).
There is a taiko drumming performance at 5pm and the dancing begins at 7:30p. Above the dancers, there will be approximately 200 white lanterns hung, each in memory of a loved one. Written in Japanese by the minister is the deceased's name, Buddhist name given to them at the time of their passing, and date of passing.
There is a special ceremony at the beginning of the dancing, for those families who have lost loved ones since our last Obon festival. This year, 41 members will be honored. This, truly is a special festival.
For more information go to Fresno Buddhist Temple