Sharing a message of peace: Tibetan monks visit Southern Utah
by LISA LARSON, The Spectrum.com, July 12, 2008
South Utah, USA -- In a world stricken with war, tumult and hate, many people are seeking a little bit of peace. Midge Henline has found the beginning of that peace through the spirit and message of the Tibetan monks.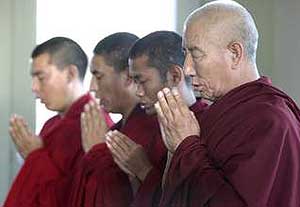 Her first interaction with the monks was in the late '90s when the Mystical Arts of Tibet - a group of Tibetan monks who travel the world to share their spirit of peace - came to Southern Utah, and "the rest is history," Henline said. "It all made sense to me."
After her positive experience she decided she wanted to provide others the opportunity to hear some of their teachings so she invites the group to come as often as occasion permits and hosts them in her home.
"They're just amazing. There's no expectations and they're just happy wherever they are," she said.
This week, members of the Mystical Arts of Tibet have returned with scheduled lectures and prayers taking place in Springdale, Cedar City, Kanab and Kayenta.
"We are so excited to have them back," said Julie Hancock, director of the Canyon Community Center in Springdale where the monks will be on Sunday, Tuesday and Saturday this coming week.
Hancock's first experience with the group was last year when they spent an entire week creating a sand mandala - an intricate design made of colored sand that is symbolic of the monks' beliefs. When the artwork was finished, the Mystical Arts of Tibet carried the sand to the river and it was all swept away to represent how temporary life really is.
"It was life changing for me," Hancock said of the sand mandala experience. "Just to be around the monks and how beautiful they are and how spiritual they are and how at peace the are, that reflects onto you and it becomes part of your life. You just learn so much from them."
Lectures presented by the group during this week's visit include "Ancient Art of Healing: The Tibetan Buddhist Approach," "Opening the Heart: Arousing the Mind of Universal Kindness" and "Meditation: A Tool for Conscious Living" all given by High Lama Gungbar Chungsang Rinpoche and translated by Tenzin Phentsok. Question and answer sessions will follow. Additionally the Tibetan monks will offer several chants and prayers of healing and prayers for the animals.
Susan Wiltsey Smith, Vicar of St. Jude's Episcopal Church in Cedar City, said she has always been interested in Tibetan monks, even before she was ordained an Episcopal priest seven years ago. She believes there is much to be gained from a variety of religions, and that no one group has a corner on God.
"We have one God and are one people, so let's worship together," she said.
Smith will host the monks at St. Jude's on Wednesday where they will feed them and learn from their lecture.
"I want to hear what they are going to say about meditation and how it opens us up more to God," said Smith, who was able to request the topic of the lecture. "I felt that it was the most universal topic."
While some might focus on the differences between Eastern and Western religions like Buddhism and Christianity, people like Smith, Hancock and Henline say it isn't going against your own religion to hear things another way.
"I'm not Buddhist but it's universal," Hancock said.
"I don't believe at all that living a God-centered life is about bringing people to your tradition and having that be the one everyone has because there's too much individuality among us. In the same way snowflakes are all different, so are each of us," Smith said.
You don't have to change the way you believe to gain from some of the things Buddhists use, Henline said. If meditation calms your mind, you can use that, if you can see the wisdom in not becoming angry about little things, apply that. In other words, "you don't have to buy into all of it," she said.
Using that philosophy Henline said she was able to glean elements from Buddhism to help with her issue of over-worrying. Now she is able to deal with reality, rather than things imagined and she no longer considers herself "a worry-wart."
"I think if people are open-minded they can come away with something that will really help them in their own lives," Henline said.
The Mystical Arts of Tibet group will be in Southern Utah this Sunday through Saturday for a variety of events. Admission is free although a $10 tax deductible donation is suggested to help the monks continue to spread their message of peace. For more information contact Henline at 635-3610 or e-mail rosebud4tibet@hotmail.com.