Tibetan Buddhism Expert Robert Thurman to Speak at OSU
The Buddhist Channel, Sept 23, 2008
CORVALLIS, Ore. (USA) -- Robert Thurman, considered the leading American expert on Tibetan Buddhism, is the first speaker in the inaugural Hundere Religion and Culture lecture series.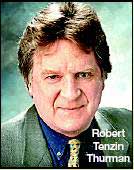 Thurman, the father of actress Uma Thurman, will speak on themes from his new book, "Why the Dalai Lama Matters," in a talk beginning at 7 p.m. on Thursday, Oct. 9, in Milam Auditorium at Oregon State University. His speech will focus on the political and religious situation in Tibet. Milam Auditorium is located at 2520 S.W. Campus Way, Corvallis. The lecture is free and open to the public.
Thurman is the Jey Tsong Khapa Professor of Indo-Tibetan Buddhist Studies in the Department of Religion at Columbia University, as well as president of the Tibet House U.S., a non-profit organization dedicated to the preservation and promotion of Tibetan civilization. He also is president of the American Institute of Buddhist Studies, a non-profit affiliated with the Center for Buddhist Studies at Columbia University.
Time magazine chose Thurman as one of its 25 most influential Americans in 1997, describing him as a "larger than life scholar-activist destined to convey the dharma, the precious teachings of Siddhartha, from Asia to America." The New York Times recently said Thurman "is considered the leading American expert on Tibetan Buddhism."
But it's Thurman's unique take on the relevance of Buddhism to American culture and politics, and his wit and creativity in weaving ancient Buddhist wisdom and popular Western ideals that make his knowledge entertaining and useful as well as informative.
Thurman's work is grounded in more than 35 years of serious academic scholarship. He has a bachelor's degree, master's degree and doctorate from Harvard and has studied in Tibetan Buddhist monasteries in India and the United States. In 1962 Thurman became the first American ordained as a Tibetan Buddhist monk.
Thurman also is the keynote speaker at a major conference in Portland, along with OSU emeritus professor Marcus Borg, Oct. 10-12. The conference is called "Bearing Witness, Bridging Wisdoms: A Buddhist-Christian Dialogue on Contemplative Practice and Social Action."
The Hundere Endowment in Religion and Culture was started in 1994 through a substantial donation from an OSU alumnus, Al Hundere. From 1994-2007, the Hundere Endowment supported the teaching and scholarship of Borg, an internationally acclaimed scholar in the study of the historical Jesus. Courtney Campbell, professor of philosophy, is the current Hundere Chair in Religion and Culture. He organized the lecture series in part to raise the regional and national profile of the Hundere Endowment.
For more information, go to http://www.bobthurman.com/