Kathina Celebration at Dharma Vijaya Buddhist Vihara in Los Angeles
By Ven. Murutamure Pannaloka, Asian Tribune, Oct 23, 2008
Los Angeles, CA (USA) -- Kathina was celebrated at Dharma Vijaya Buddhist Vihara in Los Angeles with a variety of ceremonies from Saturday evening, October 18th through Sunday afternoon, October 19th. About 400 members and guests participated in chanting pirith, the traditional offering of the robes, meditation, and dana for both clergy and laypeople.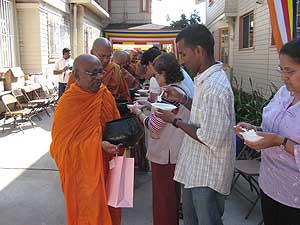 << Kathina Ceremony held at Dharma Vijaya Buddhist Vihara in Los Angeles, California, this past weekend, October 18th-19th.
A full-night pirith chanting began the ceremonies with Ven. Gajanayakagama Kassapa contributing his gifted voice to the group of tenbhikkhus in the beautiful pirith mandapa that was constructed by Ven. Pallawela Rahula.
Several members of the daiyaka spent the entire night in the shrine room doing sitting and walking meditation absorbing the strong vibrations of loving-kindness and protective paritta chants that were offered for the benefit of all living beings.
Events the following morning began with a traditional Buddha puja, and pindipatta, or collecting of alms, by forty monks, including two bhikkhunis and two monks from Korea. While collecting rice for their bowls the monks also collected money for children's charities in Sri Lanka. Approximately $350 was donated.
The Kathina celebration was sponsored by Mrs. Ebiko Pongsavas, her daughter Sonya, and their Thai-American family, who joined with other friends and members of the Sri Lankan, Thai, Vietnamese, Korean and American communities who participated in the various weekend activities.
All of the robes that were donated to the monks were sent by Mr. Boonchai and Mrs. Walai Kusikusitkhun, their daughter Cherry, and their family in Thailand.Kathina Ceremony held at Dharma Vijaya Buddhist Vihara in Los Angeles, California.Kathina Ceremony held at Dharma Vijaya Buddhist Vihara in Los Angeles, California.
A book of essays on various Buddhist topics that were contributed by children from the Sunday School classes was published and distributed to everyone. Many of the papers were the winning entries from the student essay contest from the Vihara's Vesak celebration in May.
Dana was served to the forty monks and bhikkhunis, and was then enjoyed by the crowd of members and friends on the cool, sunny day under a canopy of Buddhist flags. The monks of Dharma Vijaya Buddhist Vihara worked hard to make the event a big success, and Ven. Walpola Piyananda commended them for their teamwork.
These hard-working monks included Ven. Udagama Sumangala, Ven. Murutamure Pannaloka, Ven. Gajanayakagama Kassapa, Ven. Bambaravane Kalyanawansa, and Ven. Kalabululande Dhammajothi.