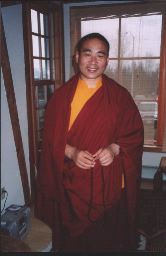 << Khentrul Lodro Thaye Rinpoche will present "Thirty-seven Practices of a Bodhisattva" in classes this weekend at the Anahata Center.

Rinpoche presents "Thirty-seven Practices of a Bodhisattva" in three-hour sessions twice daily from 9 a.m-12 p.m., and 2-5 p.m. on Saturday and Sunday at the Anahata Center, the cedar log cabin at 1044 East End Road. The cost is $20 per session, or $75 for all four sessions but no one will be turned away due to lack of funds. Volunteer positions are available.
"Rinpoche enjoys our similar environment of wide open spaces, cool temperatures and wildness so like his native Tibet," Bergman said. "His teachings embrace the Buddhist virtues of life, and how to eliminate hindrances that stand in the way of bringing about a good human being."
Rinpoche was born in Eastern Tibet, in a region called Golok, which is the home of the monastery of which he is the abbot. At the age of 7 he took monastic ordination and began studies and practice under a Buddhist master for more than 20 years. He received a khenpo degree (equivalent to a PhD in Buddhist philosophy) in each of three monasteries.
Rinpoche first came to the United States by invitation to teach in September 2003. He has been traveling almost constantly in the United States presenting these sacred Buddhist teachings.
Khentrul Rinpoche has been recognized as a reincarnation (tulku) of a master, so he is called Khentrul -- someone who is both a khenpo and tulku. Rinpoche is a Tibetan honorific title, which literally means "precious one," and is generally reserved for tulkus within a lineage of "superior dharma masters."
For more information, call 235-6076 or 235-6266.