Khentrul Rinpoche offers path to escape economic crisis
By Paul Beebe, The Salt Lake Tribune, Jan 3, 2009
In Salt Lake City, the Tibetan monk advises Americans to be less attached to wealth
Salt Lake City, Utah (USA) -- One path to recovery from the worst financial crisis gripping the world since the Great Depression was offered by a Tibetan monk in saffron and crimson robes who spoke in Salt Lake City on Saturday.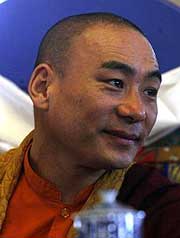 << Khentrul Lodro Thaye Rinpoche, a Buddhist monk from Tibet led a workshop called The Seven Key Points of Mind Training at the Tracy Aviary on Saturday. Photo by Leah Hogsten/ The Salt Lake Tribune SLC 12/9/08 (The Associated Press)
Khentrul Rinpoche, the abbot of a monastery in eastern Tibet, said the woes causing Americans to doubt themselves are rooted in attempts to make the world conform to their expectations.
America, Rinpoche said, is the "pinnacle country" in the world -- rich, sophisticated, the model by which other nations measure their own progress.
Yet many Americans have not learned that impermanence is the underlying order of life, he said. Prosperity is a temporary arrangement that can vanish suddenly. Happiness is found internally and by working for others, not by chasing fame and material wealth for personal gain, the monk said.
"Now [the country] is in decline. Either way, we are suffering, going up or coming down," Rinpoche said through an interpreter at the first session of a two-day workshop hosted by Ja Na Ling Sangha of Utah, a Salt Lake City group that studies Tibetan Buddhist philosophy.
Rinpoche travels the United States giving talks on what he calls "mind training" -- easy, accessible methods for achieving ultimate happiness and eradicating suffering.
He said the economic crisis has made his message timely. The mind can learn to find happiness internally and be free of suffering, Rinpoche said.
"This example alone is enough to show that what we are seeking is not outside ourselves," Rinpoche said.
Kari Dineley of Salt Lake City said much good could come out of the recession if Americans embrace the monk's ideas.
"It's like a great moment for us as a collective to realize we can shift our efforts away from obtaining something outside us to something more meaningful," Dineley said.
Rinpoche said he was not asking Americans to renounce their wealth, only to be less attached to it. He urged the 100 people attending the workshop to reflect on the advantages they have as humans -- the capacity to train their minds and the ability to seek guidance from teachers.
"We have a tendency to take for granted we are human. How rare this is," he said. "We [should] appreciate our human lives and [not] waste it on frivolous pursuits."
Tamar Prero, also of Salt Lake City, said Rinpoche inspired her to seek ways of integrating his words into her life.
"They aren't things we haven't thought of before. But they are things we don't really reflect on or carry into our lives in any way," Prero said.