Buddhist temple reaches out with Obon Festival
By Eleanor Yang Su, Sign on San Diego, July 26, 2009
VISTA, CA (USA) -- Members of the Vista Buddhist Temple rolled out the welcome mat at their annual Obon Festival yesterday with musical and dance performances, mushroom tastings and a discussion on Buddhist teachings.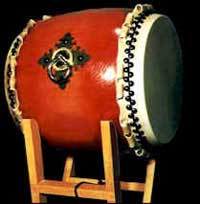 The event, which continues today, is an annual celebration of ancestors and loved ones who have died. And that was very much on the minds of many, especially during the traditional Bon Odori dance.
The temple's aging membership has dwindled to about 80 people in the past decade, and organizers are using events like the festival and new classes to reach out to spiritual seekers.
They are not alone.
The Buddhist Temple of San Diego has witnessed a drop from roughly 350 members a decade ago to 250 now. Though not actively recruiting, temple president Joyce Teague said the temple has been offering introduction to Buddhism classes for the past several years, and planning social events for those interested in Japanese culture and religion.
The number of American Buddhists has remained relatively flat in the past several years at 1.2 million, according to a 2008 survey by Trinity College. Adults who were raised Buddhists have been leaving the faith, researchers say, likely the result of intermarriage, complex teachings and a tolerance of other faiths. New members tend to be converts.
Consider Rosalyn Dong. Raised in a fundamentalist Christian family, Dong joined the Vista Buddhist Temple two years ago after reading Buddhist books and attending the Obon Festival. Dong said Buddhist teachings of love, kindness and compassion appealed to her.
"From the first time I visited, it just felt so warm and so loving," said Dong, a retired elementary school principal. "It's just felt like home."
Dozens of people stopped by a Buddhist discussion at the temple yesterday, asking questions about the philosophy and the differences between the various Buddhist sects.
Jon Turner, a minister's assistant, talked about how all Buddhists believe that life is flowing and interdependent, but their processes and practices differ.
Several festival participants said afterward they don't plan to convert to Buddhism, but found the session informative.
"I really enjoyed it," said Gloria Darovic, a registered nurse from Oceanside and a practicing Catholic. "I think it's important in life to be open to different ideas."
Temple President Terri Omori said the point is to educate, not to convert people. In an effort to reach out, the temple will offer classes in August that explore the similarities between Buddhism and Christianity, and examine the Buddhist philosophy in contemporary pop songs by The Beatles, U2 and others.
"People are coming at an older age and they want to learn about the religion," Omori said.
By mid-afternoon, a few hundred people had visited the festival. They ate teriyaki chicken and sushi, listened to a performance of traditional Japanese musical instruments, and shopped for bonsai trees and fresh fruits and vegetables.
DETAILS
Obon Festival
When: Noon to 8 p.m. today
Where: Vista Buddhist Temple, 150 Cedar Road
Admission: Free
Fare: Dance and Taiko drum performances, food and beverage booths, and shopping