Southern Utahns gather for Buddhist study, meditation
BY BRIAN PASSEY, The Spectrum, November 28, 2009
Utah, USA -- In a nondescript room in downtown St. George 11 individuals sit in complete silence. Most have their eyes closed. A few eyes are open, but they are distant.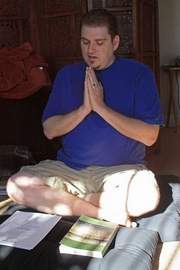 Scott Manwaring sits cross-legged on a black pillow, his hands resting in front of him in a manner that seems to indicate he is meditating. He is. They all are.
It's the beginning of a bimonthly Southern Utah Sangha - a Buddhist study and meditation gathering - and the 11 people are part of the current incarnation of a group first formed about 10 years ago by Midge Henline.
"There is some extra kind of energy when people meditate together," says Alison Keith, explaining why she attends the gatherings. "It just feels special."
The gatherings begin with a recitation of a Refuge Prayer, which reads: "In the Buddha, the Dharma and the Sangha most excellent I take refuge until enlightenment is reached. By the merit of generosity and other good deeds, may I attain buddhahood for the sake of all sentient beings."
Following a recitation of the The Four Immeasurables, Ray Urbaniak rings a bell to signal the beginning of the meditation. They immediately go silent. The only sounds come from a cleaning crew in the surrounding offices. The room is still.
The current gathering structure calls for two, 15-minute meditations at the beginning before they launch into a group discussion. The group is studying a book, "Wake Up To Your Life" by Ken McLeod.
Ann McLuckie begins the discussion by reading a passage about dharma, or the truth about the way things are and always will be in the universe.
"We come to the dharma because we need it," she reads.
As McLuckie finishes speaking there is a pause. This is intentional. During the group study sessions they follow guidelines given to them by Lopon Barbara DuBois, their guiding teacher from Prescott, Ariz.
Among the guidelines is an emphasis on listening intently to each member of the group rather than focusing on what they will say when it's their turn to speak. There is no back and forth discussion. Each person only speaks when it is his or her turn in the clockwise rotation.
A pause of three breaths between speakers helps ensure the previous speaker is finished and allows the next speaker to gather his or her thoughts before voicing them.
"It keeps it focused," Urbaniak says. "Otherwise it goes into chaos of people just talking. It becomes a chat session."
Urbaniak also says the method helps the group members practice economy of speech and they end up accomplishing more in a shorter period of time because they are not distracted by off-topic remarks.
Brad Halverson, one of only a few members of the group that uses the term Buddhist to describe himself, says this method of group discussion is common in other cultures. He says it even has some of the same principles taught by Franklin Covey for business meetings.
"It teaches you patience and it teaches you to formulate what you have to say," Halverson says. "It teaches you respect for others' opinion because you're not butting in."
During this particular meeting, most of the discussion focuses on a section of the book that most of the group members read. But occasionally there are remarks of a more personal nature that connect to the reading.
As Maughn Gregory's turn comes around, he talks about recent experiences while walking a dog. Because the dog is often stopping to sniff things, Gregory says he has slowed down and noticed things he had never seen before.
"Talk about being in the moment É he's in the moment all the time," Gregory says of his furry companion.
As the discussion moves around to Keith, she comments on the structure of the discussion itself, saying she likes the principle of silence between turns. She thinks it will help her overcome the urge to interrupt and hurry the discussion along.
Although they don't speak out of turn, some of the group members address comments offered by others in the group earlier in the discussion. When Dorothy Haluska poses a question about the reading assignment, McLuckie answers it five turns later.
Others, like Barbara Vandover, speak on the process of meditation itself.
"The most life-changing things in my life have been from meditation," she says.
Laura Welp says she first became interested in Buddhist meditation in college because she wanted to relax. Yet she says she was happy to find more than relaxation. She also discovered a process to find out the true nature of things through meditation.
The Buddhist path
The group has been through a variety of changes through the years. When Henline, the founder, took a break from leading the group a few years ago, Urbaniak and his wife, Enilse, took control and hosted it out of their yoga studio in Ivins.
However the yoga studio recently closed so the group moved to the St. George Community Healing Arts Center at 113 E. 200 North, where they have met for about four months now.
"It actually has increased our attendance because it's more centrally located," Urbaniak says. "We're getting more people interested in coming."
With the move, Manwaring and McLuckie have been taking turns guiding the group as moderators of sorts.
However, Urbaniak emphasizes that it is a Buddhist sangha study, meaning a collection of like-minded people. Although most of them do not describe themselves as Buddhists, they all follow Buddhist philosophy to some degree.
For study topics, they stick with Tibetan Buddhist books for the most part, Urbaniak says. However they prefer books in that genre written by Westerners because foreign translations do not always come across properly.
"Buddhism is practiced worldwide," Halverson says. "It ranges anywhere from a self-help/self-improvement program to deep religious philosophy."
He says the United States gives those interested in the philosophy the chance to get a taste of various types of Buddhism.
Halverson's own spiritual journey into Buddhism began a decade ago. He says the process of discovery took him a long time.
Yet the constant search for truth in Buddhism is part of what appeals to him.
"Your teachers give you a good place to start but you have to find out for yourself whether it's true or not," he says. "It's a chance to gain insight from other people's perspective and to maybe challenge my beliefs by putting them out there and letting other people have a shot at it. It gives me an opportunity to see things from other people's perspective so I don't get too narrow in my belief system."
He says meditation is important because understanding your own mind and disciplining yourself is a major tenet of Buddhist faith and philosophy. Although there are many types of meditation, Halverson says there are two broad categories.
Analytic meditation is a chance to ponder a certain subject while calm abiding meditation encourages the practitioners to relax while clearing their minds. The latter is "much more difficult," Halverson says, but it's also a good training technique to help individuals control their minds in stressful situations.
A major principle of Buddhism is becoming aware of your own mind and learning to live in the moment, Halverson says. But like many other religions, it also teaches individuals to become better people.
For Keith, she says Buddhist philosophy is just what makes the most sense to her because she doesn't find the idea of an anthropomorphic god as helpful.
"I like the concept that each of us has Buddha nature," she says. "Each of us - if we can see through our own ignorance - we can see that we are part of the grand unity."
This also emphasizes a focus on compassion and kindness, another appealing element of the Buddhist path.
While spiritual growth is often an individual journey, Urbaniak says the organized group meetings have helped him that growth in him.
"I've progressed because I'm practicing the Buddhist philosophy rather than just talking about it," he says.
If anyone is interested in joining the group or visiting, Urbaniak requests that they notify someone in the group before showing up. They can call the Urbaniaks at 635-3981 or e-mail Manwaring at scott@susangha.org. Southern Utah Sangha meets from 2 to 4 p.m. on the first and third Sunday of each month.