Anaheim church offers path to enlightenment
by ELISABETH DEFFNER, May 11, 2010
Anaheim, CA (USA) -- The Orange County Buddhist Church has been a fixture in western Anaheim since 1965, but its history stretches back for decades.
Starting in about 1920, "dharma talk gatherings" were held in private homes in Orange County, with ministers traveling from Los Angeles to lead them. In 1935, the first permanent church structure in the history of Orange County's Buddhists was constructed in Fountain Valley.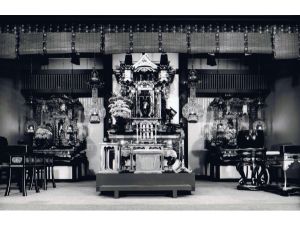 << The Orange County Buddhist Church has been a fixture in western Anaheim since 1965
The church's growth was disrupted when many Japanese-American members of the church were sent to internment camps during World War II; upon their return, the church was reopened as a hostel for those without a place to live.
In 1958, the Buddhist church moved to a building in Stanton, where the community remained until the construction of the Anaheim church.
Today, the congregation — made up of about 500 families from Orange, Riverside, and Los Angeles counties — is looking ahead to its 50th anniversary.
Much has changed over the decades, including the face of its membership. Though the church comes from the Japanese Buddhist tradition, not all its members are Japanese, says Rev. Marvin Harada.
"People are curious," he said, noting that each individual encounters Buddhism in a unique way. Some come to Buddhism through the practice of meditation (the church offers meditation services Sunday mornings and Wednesday evenings), while others desire to learn about Buddhism as a result of their martial arts practice. Others attend cultural classes or demonstrations at the church, while still others attend Harada's introductory lecture on Buddhism, offered through the church's Buddhist Education Center.
Services have also expanded. Dharma School (Sunday School) and Japanese School (where American-born children of Japanese heritage can study the language of their ancestors) have been running for decades. Cultural instruction is somewhat newer at the church. Classes in aikido and ikebana (Japanese flower arranging) date back to 1965, and have more recently been joined by classes in cloth-dyeing, doll-making, and kendo (Japanese fencing).
The church comes from the Japanese tradition of Buddhism. In the United States, Buddhism is still generally ethnically oriented, said Harada, with temples and churches from Chinese, Korean, Thai, Vietnamese and other Buddhist traditions. But at their base, they have in common a reverence for the Buddha—the enlightened one—and a focus on living as he lived in order to attain enlightenment.
Born a prince centuries ago in India, Siddhartha is the historic Buddha, the individual who strove for and achieved enlightenment. There are, however, many different Buddhas. As Harada notes, "The fat jolly person you see in restaurants... is a symbol."
In the Orange County Buddhist Church there is another symbol: the Amida Buddha, a "symbol for the contents of the Buddha's enlightenment," Harada said, "the truth he attained, if you put it in personified form."
The Orange County Buddhist Church is at 909 S. Dale Ave. in Anaheim.
Information: 714-827-9590 or www.ocbuddhist.org.