The different faces of Buddhism
BY GERALD CARROLL, Visalia Times Delta, July 26, 2010
Visalia's Obon Festival draws a vareity of backgrounds
Visalia, CA (USA) -- Danielle Komoto, 26, was born in a Catholic family of Filipino heritage. Her husband of one month, Kevin Komoto, 28, is Japanese American, and his family leans toward Buddhist traditions.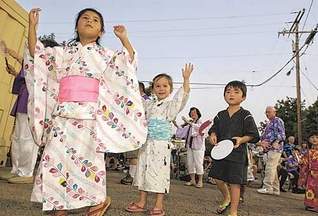 The Irvine couple were one of many diverse families Saturday in the Obon Dance Festival, a Buddhist celebration honoring "all who have died through-out human history," according to teacher Jo-Ren MacDonald of Visalia.
"There is a lot of commonality between the two faiths," Danielle Komoto said. "It's wonderful being part of both worlds."
Brian Komoto, 53, Kevin's dad and a 30-year Visalia resident, has a simple view. "Hey, look at my new daughter-in-law!" said Brian, a member of the host temple, the Visalia Buddhist Church in the 500 block of Center Avenue.
Of the seven Buddhist temples scattered around the Central Valley, at least five sent performing groups or other representatives, said Calvin Doi, 61, of Parlier.
"There's roughly 1,700 members at these seven locations, around 100 here in Visalia," Doi said. "This is one time of the year all of us try to get together."
Diversity was the order of the day. For example, Megan Hasebe, 15, and her sister, Lauren, 12, have a Japanese grandmother, Aiko Hasebe, 74.
All three donned traditional Japanese dress and participated in the large-group dances.
"It is important for all of us to know where we came from and all the family traditions," Aiko Hasebe said.
Similar sentiment was echoed by Keala Bark-hurst, 29, and her three boys, Coy, 7; Logan, 3, and Owen, 1.
"I'm half-Japanese and the boys are quarter-Japanese," Keala said. "I want them to know all their multiple heritages."
More than a dozen taiko drummers made the magic happen Saturday, with a trio from Visalia opening the dance session with their own beat.
"Drums make a sound, but the end result is tranquility and a sense of cleansing of the mind," said Kevin MacDonald, head teacher of the Visalia trio, consisting also of Brianna Karsten and Don Yamakawa. "Drums celebrate the harvest and are supposed to chase away evil spirits."
Traditional "fan dances" highlighted the evening festivities after a hefty meal featuring teriyaki steak and peppery plums in hot sauce.
Doi said Buddhism is starting to "get away from being a strictly Japanese thing." The Visalia church consists of what Doi described as "Jodo Shinshu" Buddhism.
"It's like Baptists compared to other Protestant Christian denominations," organizer and Visalia church member Judy Yamashita said.
Still, more and more different faces are showing up at Buddhist services and congregations.
"It's amazing how many other nationalities are taking to Buddhism," Doi said. "That's what makes this particular event so interesting."