Dalai Lama to focus on peace among religions in Silicon Valley visit
By Joe Rodriguez, San Jose Mercury, Oct 8, 2010
San Jose, CA (USA) -- In a region hamstrung by a stunted economy, besieged by dirty campaign ads and ever mindful of terrorist threats, here comes the Dalai Lama with a message of personal compassion and religious kinship.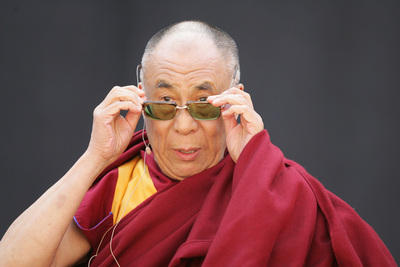 << The Dalai Lama surveys a sold-out crowd during his 2009 appearance at the Greek Theater at UC Berkeley. (Doug Oakley, Bay Area News Group)
Events of the four-day visit to Silicon Valley by the Tibetan Buddhist leader and Nobel Peace Prize laureate are mostly sold out, a sign he hasn't lost his appeal for American audiences even as his quest for Tibetan autonomy seems to wane.
At the largest event on Tuesday, some 11,000 people are expected to fill a cavernous hall at the San Jose Convention Center for his lecture on how to live a compassionate life. Following that, local religious leaders and thinkers will discuss the Dalai Lama's crusade for religious pluralism, a themes he explores in his latest book, "Toward a True Kinship of Faiths."
"In these times, that's a message that resonates with everyone," said the Rev. Gerald Sakamoto of San Jose Buddhist Church Betsuin. "It doesn't matter if you're Buddhist or not."
Known to Buddhists as His Holiness, the 14th Dalai Lama usually tours the United States once or twice a year to teach or promote his books. International politics often overwhelm his appearances, as when riots broke out two years ago against the Chinese regime in Tibet. But nothing on that scale has erupted recently, giving the man who likes to describe himself as a humble monk an opportunity to simply teach.
"His message is straightforward and simpler than a lot of people think," said Mark Gonnerman, outreach coordinator for the Gyuto Vajrayana Center, which is sponsoring the convention center talk. "Yeah, there's all this bad stuff going on, but what it all comes down to is the Golden Rule -- I will treat you like you treat me. It's something all religions have in common."
Given that all but one event sold out by last week, the Bay Area appears eager to listen. Already rich in Buddhist traditions from Japan, Vietnam and other Asian countries, the region has become a mecca for religious thinkers of other faiths who are blending Buddhist traditions with their own, as well as a beachhead for the fledgling "interfaith movement."
As the Dalai Lama sees it, today's global reality requires us to accept two premises: First, that no one religion can meet all of humanity's needs. Even if we can't accept another religion's specific beliefs, we should respect the right of others to hold those beliefs for themselves. Second, this basic acceptance requires a spirit of compassion, which he believes forms the ethical heart of all religions.
Ravi Kaw has taught Hindu Sunday school for 25 years at the Chinmaya Mission in East San Jose. Given the Bay Area's religious diversity and a relatively well-educated population, he said the Dalai Lama's message will get across without much argument. But he did mention a religious cleric he knows who refused Kaw's invitation to attend the Dalai Lama's teaching in San Jose.
"He said his religion is the only religion and that's that," Kaw recalled. "He did not understand that we are not here to convert, but to help you clear your doubts about your own faith and gain more understanding about the other's faith."
Gonnerman also met some resistance -- from a few local Buddhist monks who said they wouldn't attend any of events, fearing they would end up on a Chinese government blacklist and banned from visiting the country. Communist forces claimed Tibet as part of China in 1950 and shortly after exiled the Dalai Lama, who has since struggled to lead his people from a base in India.
Local organizers don't expect the Dalai Lama to veer from teaching into politics, but politics might be hard to avoid when the panelists get around to talking about how the world's religions can get along when politicians enter the picture, as in the current dispute in New York City over the expansion of a Muslim mosque near Ground Zero.
One of the invited speakers is Rabbi Michael Lerner, founder of Tikkun Magazine, which explores the centrality of religion in everyday life and politics.
"He is the greatest living exponent of non-violence and inter-community caring and love," Lerner said about the Dalia Lama. "In a way, I wish Congress were forced to be in that room."