Buddhist society lunch promotes vegetarianism
By Carly Hill, SGV Tribune, Nov 13, 2010
SAN DIMAS, CA (USA) -- The Buddhist Tzu Chi Foundation taught members of the community the importance of a vegetarian diet Saturday.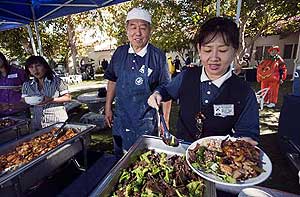 << Wenli Tseng, a volunteer of the foundation, right, serves vegetarian meals to guests as chef Mr. Wan looks on during a vegetarian feast hosted by the Buddhist Tzu Chi Foundation at its headquarters in San Dimas on Saturday, Nov. 13, 2010. (SGVN/Staff photo by Watchara Phomicinda)
More than 50 hungry guests came to the nonprofit organization's national headquarters in San Dimas to sample a wide array Asian vegetarian cuisine and to learn more about being a vegetarian.
"We learn about these things, but never really pay attention," said Martin Kuo, disaster response specialist for the foundation. "Thirty percent to 40 percent of the wheat we produce goes to feed livestock, while tons of people are starving."
Before the feast, visitors were shown videos about what the Tzu Chi Foundation does. The organization assists with natural disasters, medical care and education across the globe, with branches in more than 50 countries and more than 10 million members worldwide. Founded in the United States in 1989, the foundation now has 100,000 members in the country.
"We are the biggest organization that does humanitarian work that was founded in Buddhism," said Emily Chin, volunteer. "But, we try to be global. All races and religions are encouraged to help."
After the speeches and videos, eager visitors stood up to partake in an all-vegetarian feast. The menu included meatless sweet and sour pork, orange chicken and broccoli beef. The imitation meat products are made from tofu and mushrooms, and look very realistic.
"I feel like if this food was readily available to people, you could eat this every day and not know it was vegetarian," said Erica Rodriguez, who works for the city of San Dimas.
The main aim of the event was to encourage visitors to reduce their carbon footprints by cutting out meat from at least one meal a week.
"If you eat one vegetarian meal, you greatly reduce your carbon output," Kuo said. "It's good for nature, and good for ourselves."
Many participants left with a greater knowledge of vegetarian cuisine and an appreciation for the environment.
"I think this is incredible," said Melissa Marshall, who works for the city of San Dimas. "If I could figure out how to cook like this, I would eat it every day."