Sand creation by visiting Tibetan Buddhists symbolizes impermanence
By Scott Hewitt, The Columbian, December 22, 2010
Clark County, WA (USA) -- Everyone's enjoyed the paradoxical play of sand castle construction - focusing with delight and deliberation on a project that's doomed. The point is the process, the reward your own sense of satisfaction despite the looming tide.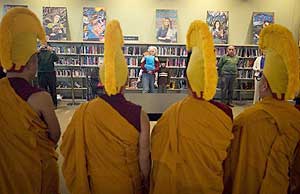 << Monks from Drepung Loseling Phukhang Monastery wear orange and red because their culture considers those colors the humblest and least attractive, according to translator Tenzin Sherab of Gresham, Ore.
Photo by Zachary Kaufman
Now imagine spending day after day drawing on ancient designs to create the most stunningly elaborate, spiritually significant sand art on the planet — and then sweeping it up like so much dust when it's done.
A group of five Buddhist monks from the Drepung Loseling Phukhang Monastery of southern India has been touring the West Coast since October, and most of their days are spent piecing together, grain by grain, mandalas made of multicolored sand. On Tuesday morning, those monks prayed and chanted in the main room of the Cascade Park Community Library before buckling down on a three-day mandala project.
A mandala is a sacred artwork — a microcosm of the entire universe — that takes the shape of an intricately sectioned and subdivided circle-in-a-square. It may include images of deities and Buddhas, natural forces and cosmic architecture. Buddhists and Hindus have used mandalas as teaching and meditation tools for thousands of years.
"They are unique and beautiful things and it's a rare window into a quite amazing culture," said Kat Wilson of Vancouver, a student of Tibetan Buddhism for decades and manager of the monks' tour. It was only beginning in 1989, Wilson said, that Tibetan Buddhist practitioners of sand mandala art started venturing forth to introduce their creations — and themselves — to the outside world.
The monks visiting Vancouver are all refugees from Tibet, which was occupied by Communist China in 1949. Thousands of monasteries were razed, including the original Drepung Loseling Phukhang Monastery. All of the monks now visiting Vancouver followed the example of their spiritual leader, the Dalai Llama, by fleeing through the Himalayas and making their way into south India, where their original monastery has been re-established as a leading center of Tibetan Buddhist learning.
Through their tour, the monks are hoping to raise what it costs to maintain and operate Drepung Loseling Phukhang Monastery, which is home to 300 monks and other residents, many of whom are new refugees from Tibet. According to a brochure, that cost is $240 per monk per year.
"A lot of western people are very interested in Tibetan Buddhism," Geshe Jampa Tenzin, the leader of the group, said through a translator. Tenzin, 43, has been a monk since he was 17. He fled Tibet for India at age 21.
How does he like visiting America? "It is a very nice environment," he said with a beaming smile.
Many of the several dozen folks who showed up to watch the monks work were members of Clark County's roughly 500-strong Tibetan community, Wilson said. The monks were invited to visit the West Coast by the nonprofit Shakyamuni Tibetan Buddhist Center of Portland (http://www.stbcportland.org). You can take a look at their home base at http://www.loselingphukhang.org.

Mark in the sand
The mandala under way in Cascade Park is a diagram of a female deity called Tara, according to Wilson's friend Donna Gilhousen, who drove up from Eugene, Ore., to witness the event. Tara is a protector against disease, accident and calamity, Gilhousen said.
The monks travel with their own wooden table — just about the size of a card table — and the first order of business Tuesday was wiping the table free of any hint of their previous mandala. According to their schedule, Vancouver's will be the 12th mandala they've created since October.
Then they took up large wooden compasses to draw the outer circle and many more internal ones. They snapped chalky strings against the table, dividing the entire space into an intricate grid. Just creating all the lines took about 90 minutes. The monks are expected to work from 9 a.m. to 6 p.m. for three solid days until the mandala is done. Then, toward the end of Thursday, they'll have a dissolution ceremony and sweep up their creation all over again.
"It is made to be worked on until it's dissolved," said Wilson. "They work on it nonstop every day. It's meant to be a lesson in impermanence. As much as it's worked on and loved, and it's so beautiful and everyone admired it and loves it, it's meant to be swept away." According to tradition, the used sand is to be released into a flowing river so that the blessing it has acquired will spread to all living things and the whole world.
"It is a very old tradition in Buddhism," group leader Tenzin said. "We create this to bless the environment and to create a message of compassion and impermanence."
The monks have trained for as long as a decade in order to memorize the intricate construction of ancient mandalas and the chanting of sacred texts that accompanies the work.
"They are in a meditative state when they make it," said Wilson.
And they retain that meditative state no matter what, according to their good-humored translator and driver, Tenzin Sherab of Gresham. Although the monks always rope off their table, Sherab said, one eager spectator in San Jose just couldn't help sticking a finger in the artwork — just to test what it felt like — while the artists were on lunch break.
Some little kid? No, it was a grown-up woman. Obviously she never realized how soft and fragile the sand was, but Sherab couldn't help losing his temper.
His friends, the monks, on the other hand, just smiled and bowed and set about fixing the mark she made — just another little bit of impermanence within their larger one.