Buddhist monk to visit; learn about generosity, abundance Saturday in Port Angeles
By Diane Urbani de la Paz, Peninsula Daily News, Feb 10, 2011
PORT ANGELES, WA (USA) -- Erik Jung, an ordained monk headed here Saturday, calls his form of Tibetan Buddhism the "down-and-dirty, get-the-job-done" kind.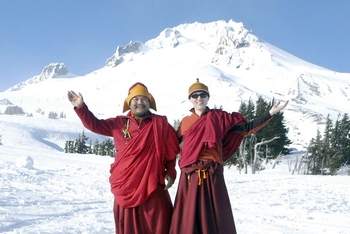 << Ordained Buddhist monk Erik Jung, right, is pictured with his teacher, Dzogchen Khenpo Chooga Rinpoche, in front of Oregon's Mount Hood.
And just what is the "job"?
"Waking up," said Jung, who lives near Eugene, Ore., but is in the middle of a teaching tour across the Northwest.
"The question comes down to: How do we go about waking up to who we are?"
The Buddhist response to that, Jung said, can be boiled down to this: We're made of love and compassion.
But "we get a little bit lost and turned around," Jung said, and we tend to forget how to relate to those around us.
"When we do connect, we are happy, and the world around us is a better world," the monk said.
2 gatherings Saturday
Jung will expand on that idea in two gatherings Saturday: an afternoon walk through the woods to Marymere Falls beginning at about 1 p.m. and a talk at the Port Angeles Library, 2210 S. Peabody St., from 7 p.m. to 8:30 p.m.
The walk is free; admission to the talk is a suggested donation of $15, but no one will be turned away.
Devan Miller of Joyce, also a student of Buddhism, invited Jung to town.
He encourages anyone who's interested in learning about the practice and in meeting other members of the Olympic Peninsula Sangha, a Port Angeles-based Buddhist community, to join the easy walk to the falls near Lake Crescent.
Walkers will meet at the Storm King Ranger Station just off U.S. Highway 101 at 1 p.m. and start up the trail at 1:15 p.m. Miller welcomes calls for information at 360-477-5445.
Creating abundance
On Saturday night, in his talk titled "Generosity and Abundance," Jung will discuss -- and you knew this was coming -- how those two good things are connected.
Hard work for financial gain, Jung said, won't necessarily lead to a sense of abundance in your life. Lots of people have learned this.
It's generous thinking, aka positive thinking, that creates the good life, Jung and other students of Buddhism believe.
"When we practice generosity with our friends and our family," he said, "the more abundance we have."
When one expands his or her circle of generosity, the feeling of abundance expands, too, Jung added.
"The richest one is one who has the most open heart, who is willing to share resources" with those living around him or her.
Positive thinking, Jung said, has tremendous power because your thoughts drive your actions -- and your experience of the world.
Meditation Sunday
Jung will wrap up his Port Angeles visit by joining the Olympic Peninsula Sangha's meditation gathering from 10 a.m. to noon Sunday at 325 E. Sixth St.
The gathering is open to the public.
Miller, who has studied Buddhism for eight years and corresponds with Jung on Facebook, added that Buddhist teachings are not a religion but a "science of thinking" explored through study and meditation.
"This is an introduction to the principles of Buddhism," Miller said of Jung's talk.
Both men are students of the Dzogchen Longchen Nyingthig lineage of Mahayana Buddhism, which Miller is happy to describe in surprisingly simple English.
"We start out with the realization that we all have Buddha nature," meaning our essence is joy and compassion.
But often, "there's stuff in the way," Miller said, stuff like negative thoughts about ourselves and other people.
"We want to basically delete all negative thinking, so we can be happy" and spread that happiness around.
Dzogchen means "the great inclusion," added Miller. This form of Buddhism respects other spiritual traditions and values their teachings about positive thinking.
Miller, who hopes to bring other Buddhist teachers to Port Angeles and even establish a dharma (educational) center here, can be reached at d.miller@tuvatrader.com.