High school students follow Buddhist faith, seek donations for Japan disaster relief
by Julia Prodis Sulek, San Jose Merfcury News, March 13, 2011
San Jose, CA (USA) -- A hundred teenagers in white pants and blue sweaters gathered Sunday at the Tzu Chi Foundation center as they do twice a month, to learn the Buddhist traditions of their parents: respect, leadership, compassion.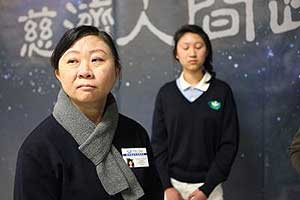 << Monica Tsai, and daughter Jasmine Tsai, 16, of San Jose, said she talkj about praying for Japan during a morning prayor service at Taiwan Buddhist Tzu Chi Foundation Center in Milpitas Sunday March 14, 2011. The Tsai and fellow Buddhist spent the afternoon collecting donations for the victims of the 8.9 earthquake that devestaded Japan. (Maria J Avila Lopez/Mercury News) ( Maria J. Avila Lopez )
And then a group of them, joining some 300 other volunteers, took those teachings to the streets of Silicon Valley to raise money for tsunami disaster relief.
Holding signs and white cardboard boxes, the volunteers of mostly Chinese ancestry asked for donations, no matter how small, to help bring comfort to their Japanese brethren.
"I can't go to Japan and help, but I can go out and fundraise," said Jasmine Tsai, 16, whose grandfather was raised in Japan but was safe in Taiwan during Thursday's 8.9-magnitude quake that killed an estimated 10,000 people, turned swaths of cities into sludge and sent thousands more fleeing with fears of a nuclear meltdown.
Fundraising efforts are under way around the world, from the Red Cross to Silicon Valley's social gaming company Zynga. The San Jose Buddhist Church in Japantown is already fielding calls from people wanting to donate.
"We empathize and we also need to learn," said the Rev. Ken Fujimoto of the San Jose church. "We take so much for granted. To be able to help is a privilege."
As people ate lunch and shopped along Japantown's Jackson Street on Sunday, conversations frequently turned to the devastation that ravaged parts of their ancestral homeland.
"I reached
Advertisement
my friends on Facebook," who live in Japan, said Tracy Lau, 24, of San Jose. "They said they're OK."
Within hours of the quake, the Tzu Chi Foundation, whose name means "compassion and relief," had established an emergency coordination center in Taiwan's Hualien City as well as an Internet access point in Tokyo for family members trying to reach their loved ones. The international humanitarian organization has provided aid in 70 countries.
At its northwest region headquarters on Oakland Road in San Jose on Sunday, the Tzu Chi youth group spent the morning in leadership classes. At noon, they gathered in the foundation hall, put their palms together and raised them to their chins.
"Let's use our most sincere hearts for prayer today," said Minjhing Hsieh, executive director of the foundation. "Everyone can be rich in their hearts, even if they're poor."
And with that, he sent about 20 of the students to meet up with other volunteers at two dozen spots across the Bay Area, from the East Pacific Plaza in Richmond to the Kyo-Po market in Santa Clara. They asked for donations at the New Mongolian BBQ in Mountain View, Foodnet Plaza in San Leandro and the Marina Market in Daly City.
They fanned out to the Lion supermarkets in Newark and Cupertino and the 99 Ranch stores in Milpitas, Fremont and Pleasanton.
As shoppers passed with their groceries, they slipped in bills, they clinked in coins.
Jeremy Chen, an 18-year-old student at Pioneer High School in San Jose, had partaken in the prayer service, but had a conflict and couldn't collect donations Sunday.
He said he plans to hold the white donation box next weekend and has even bigger ideas beyond that.
"We were planning a trip to go to Japan at spring break," Chen said of his family. "Instead of visiting Tokyo, I want to go and help."