Taxpayers to fund Buddhist-inspired stress course for civil servants
By Don Butler, Postmedia News March 21, 2011
OTTAWA, Canada -- Stressed-out employees at Justice Canada in Ottawa will soon be able to seek relief in a taxpayer-funded program that uses the Buddhist concept of mindfulness to help them cope with personal and workplace pressures.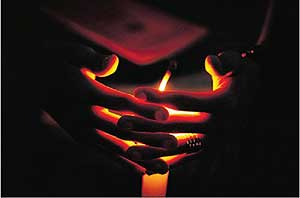 << A Tibetan Buddhist In exile shields a candle while participating in a vigil. File photo. Photograph by: Dibyangshu Sarkar, AFP
The department invited bids last week for two nine-week "mindfulness-based stress reduction" sessions designed to help up to 40 public servants "learn to relate more consciously and compassionately to the challenges of work and personal life."
According to Justice Canada's request for proposals, the program will help employees "deal more effectively with difficult thought and emotions that can keep you feeling stuck in everyday life.
"The practice of mindfulness can support you to work with and understand the nature of your thought and perceptions so that you can take control and responsibility for your health and well-being," the document says.
The maximum budget for each of the two sessions is $11,000 plus GST. The request for proposals gives the department the option of adding four more sessions later this year, which would increase the cost by up to $44,000.
Asked why the program was necessary, a departmental spokesman replied by email that the need for effective tools to manage stress and promote mental health in the workplace is "widely recognized. The beneficial effects of this program are well documented."
Mindfulness-based stress reduction was founded in 1979 by Jon Kabat-Zinn, a medical professor at the University of Massachusetts. According to the website mindfulnet.org, 18,000 people have since completed MBSR programs.
It's now used in hospitals, schools, courtrooms, prisons and boardrooms around the world. Corporate disciples include Apple, Yahoo!, Google, Starbucks and Procter & Gamble.
Mindfulness, which has its origins in ancient meditation practices, "helps you choose to become more aware of your thoughts and mental processes," says mindfulnet.org, "allowing you to choose how you respond to them, rather than responding on autopilot."
In the workplace, the website says it can help reduce tensions, improve communications, defuse conflict and promote more creative thinking. Participants are taught a number of meditation techniques designed to reduce "brain chatter" and respond more appropriately to thoughts and feelings.
Most MBSR training includes a "body scan exercise, two sitting meditations, walking meditation, gentle stretching and body awareness exercises," the website says.
Justice Canada's embrace of mindfulness got a qualified endorsement from Patty Ducharme, the national executive vice-president of the Public Service Alliance of Canada, which represents the department's program officers, clerks and support staff.
"Obviously we're not opposed to programs that could improve workers' health and well-being," she said. "But we're also mindful of the fact that prevention programs seem to have the most significant impact on people's ability to work in environments that are busy and stressful."
Justice Canada certainly qualifies as one of those, she said.
"I know that it's a stressful work environment. Some of these files that people are juggling are very high-profile files that have really significant ramifications if people miss deadlines or screw up."
Wellness programs such as MBSR focus on the individual, she said, rather than addressing the workplace environment that gives rise to the stress.
Justice Canada, which ran two MBSR sessions last fall as a pilot project, says it chose the mindfulness-based stress reduction program after "thorough research and evaluation of the various stress management programs available."
The department proposes to run one program in English and one in French, each with between 10 and 20 participants. Both will last nine weeks with eight sessions of 2.5 hours each and one daylong session. The programs will run between mid-April and mid-June.