Burnaby Buddhists prepare for visit of Tibetan teacher Kalu Rinpoche
By Grant Granger, Burnaby NewsLeader,August 16, 2011
Burnaby, BC (Canada) -- A small Buddhist centre in Burnaby is getting ready for the visit of the man believed to be the reincarnation of the person who established it nearly 40 years ago.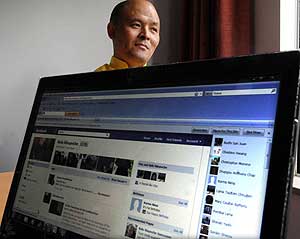 << Lama Tsultrim is eagerly anticipating a visit next month of Kalu Rinpoche. Tsultrim says the 20 year-old monk is in touch with more modern methods, including maintaining his own Facebook page. MARIO BARTEL/NEWSLEADER
Before the Dalai Lama began bringing Buddhism to the world, the Kalu Rinpoche was assigned the task.
When he arrived in Canada in 1972 he first looked at Toronto but couldn't find many interested in setting up a centre there.
So he came to the Lower Mainland and formed the Kagyu Kunkyab Chuling, one of the first Tibetan Buddhist Dharma centres in the West, that is based on Sidley Street in South Burnaby. There is also a retreat on Salt Spring Island.
Kalu Rinpoche, who went on to establish more than 100 centres in many corners of the Western world, passed away in 1989, but before he did he asked a lama and his wife to have a child.
He was born on Sept. 17, 1990, and has been recognized as being the reincarnation of the previous Kalu Rinpoche.
Lama Tsultrim has been at the centre for 10 years. He studied under the original Kalu Rinpoche, and also came into contact with the current one.
"Of course," said Tsultrim, when asked if he believed the 20-year-old who will be visiting the Lower Mainland next month is a reincarnation of the one he grew up with.
"He is the same, pretty much in the way he acts and the way he talks just like the previous one. He cares about people like the previous one. He had a very good relationship with his previous life."
Tsultrim moved to a monastery when he was seven years old and worked closely with Kalu Rinpoche from 1982 to 1988.
"He was a very, very kind teacher and he really cared about other people. For me, he was like a father," said Tsultrim.
Patrick Couling, a centre spokesman, said lamas who know both men well all say the two Kalu Rinpoches are one and the same.
However, what is different about them is the young Kalu Rinpoche grew up in the age of the Internet and Facebook, even though he was raised in a monastery 7,000 feet up in the mountains near Darjeeling, India. Part of his mission is trying to integrate modern means to spread Buddhism.
"Spirituality is one thing, but you've got to still live in this world," said Couling.
Kalu Rinpoche will be in British Columbia Sept. 12-25, with the Lower Mainland portion of the visit Sept. 13-17, including his 21st birthday celebration on Sept. 16.
"He's a man believed to be a direct descendant of people who lived 1,000 to 1,500 years ago, so there's a tremendous amount of excitement as a result," said Tsultrim.
For more information on the centre and the events of Kalu Rinpoche's visit go to kkc-kdol.org.