Dharma Drum Mountain President to visit Toronto
The Buddhist Channel, Oct 16, 2012
Dharma Drum Mountain (Ontario) Buddhist Association announces Abbot President Guo Dong Fashi Toronto Visit Oct. 20/21
Toronto, Canada -- The world is changing at a fast pace, and we need a method to put our mind at ease, in every moment. The DDMBA AbbotPresident and many Venerables are visiting Toronto to deliver their vows toward wisdom and compassion. They will bring us Buddha teachings in order to illuminate our mind and guide us along a peaceful and joyful road in life.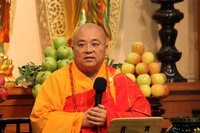 DDMBA Ontario (Dharma Drum Mountain (Ontario) Buddhist Association) is a registered charitable organization in Canada. The organization has been holding various activities related to the practice and study of Buddhism for over 10 years, including meditation, Buddha name recitation, study groups, Dharma ceremonies, Sutra calligraphy, and a host of other activities related to Chan (Chinese Zen) Buddhism. The organization also invites Venerable Chan teachers from New York and Taiwan to visit Toronto, several times a year, to lead various special events.
Master Sheng Yen (1930-2009), the founder of DDMBA, first proposed the idea of "protecting the spiritual environment" in 1992. Protecting the spiritual environment means protecting our mind from vexations, as well as abandoning greed, anger, and ignorance. The purpose of protecting our mind is to uplift the quality and character of humanity and, in doing so, build a pure land on earth.
By changing the way we view things, we can transform vexations and troubled thoughts into a wise, compassionate, and pure state of mind. DDMBA believes that building a pure land on earth starts from cultivating our own mind. As long as our mind is pure, the land we are in is pure; conversely, if the mind is not pure, no place on earth can be pure. Master Sheng Yen uses Buddhist philosophy as a foundation, coupled with the right views and methods in Chan meditation, to provide people in today's world with solid methods with which to practice spiritually in their daily lives. Although Master Sheng Yen passed away in 2009, his great vow of purifying the mind and building a pure land on earth is being carried forward to this day, by all the Venerables and lay practitioners of DDMBA around the world.
To help carry forward Master Sheng Yen's great vow, DDMBA Ontario announces today that the Abbot President, Guo Dong Fashi, will visit Toronto for the second time. He is here to lead a fundraising event, "DDMBA Ontario 2012 Dharma Gala" on October 20th, as well as to oversee a Buddha Name Recitation One Day Retreat on Oct 21st. There are a total of five Venerables and two Dhamapala leaders accompanying his visit. This is a rare opportunity for a Buddhist, or for anyone who is interested in Buddhadharma (Buddha's teachings), to participate in and engage with the organization, as well as to learn more about Buddhism in general.
Venerable Guo Dong Fashi was appointed to be the Abbot President of DDMBA in 2006. He became the President of Dharma Drum Sangha University (in Taiwan) in 2007. From 2009-2012, he has continued to serve as the Abbot President of DDMBA. The Abbot President has a very jovial and good-natured personality, and he often delivers the Buddhadharma with witty and humorous words.
In addition to his ceaseless member-caring activities, the Abbot President constantly travels around the world to spread Buddhist teachings, sharing DDMBA's affirmation of protecting the spiritual environment. In addition, Venerable Guo Dong encourages everyone to practice the Bodhisattva path, which incorporates both wisdom and compassion. He has remarked that we can apply Buddhist teachings in daily life, using the principals of "adding, subtracting, multiplying and dividing".
"Adding" refers to treating everyone and everything as resources to cultivate our blessings and wisdom. "Subtracting", on the other hand, refers to continually reminding ourselves that what we need is not very much, but what we want is often too much, and that we should only take what we need and what we should take, but never take what we should not take, or what is not ours. "Multiplying" refers to cherishing all causes and conditions, since every achievement is an accumulation of causes and conditions in addition to other people's efforts. Lastly, "Dividing" refers to abandoning any kind of ignorance, obstructions, and vexations and transforming vexations into a pure mind.
Venerable Guo Dong will lead Toronto in thevery first Buddha Name Recitation Retreat for DDMBA Ontario, on Sunday October 21st. Buddha Name Recitation is an excellent method for purifying the mind. Through reciting Buddha's name, prostrating to the Buddha, and fast-paced chanting, we can practice letting go of one's self and attachments. In addition, through this practice, we can generate a compassionate, repenting, and appreciating mind. All of these elements form the foundations of walking the path of Bodhisattvas and to enlightenment. In our daily life, if we can treat everyone around us (including strangers) with a compassionate and appreciating mind, the so called "pure land" will appear on earth.
Moreover, the "Dharma Gala" fundraising event on October 20th is aimed at establishing a fund for a Chan Centre in Ontario, for people to learn and practice Buddhist teachings. The Abbot President has said: "The purpose to establish a Chan Centre is not to attract donations, but to deliver orthodox Buddhist teachings to every person in the world." Buddhadharma is a beacon guiding us toward the right direction in life. If we can light up the beacon in everyone's mind, it will illuminate all human beings on earth. This is exactly what DDMBA Ontario is trying to promote: to lighten everyone's mind and thereby to illuminate the darkness on earth.
The fundraising event will also include (1) Dharma talks by Abbot President Guo Dong Fashi (2) music, art performances and silent auctions, and (3) a ceremony of "illuminating the mind." Free vegetarian meals will be served during the events. Both events are open to the public and are free of charge. Registrations are required. Donations are appreciated on the spot..
If you go:
1. "Dharma Gala"
Time: Saturday, October 20th, from 11 am to 3 pm
Location: Chinese Cultural Centre Of Greater Toronto
Address: 5183 Sheppard Avenue East, Toronto M1B 5Z5
Please register at http://chanmeditation-ddm-ontario.ca/home.html
2. "Buddha Name Recitation One Day Retreat"
Time: Sunday, October 21st, from 9 am to 5 pm
Location: North York Civic Centre at member's Lounge underground level
Address: 5100 Yonge Street, Toronto, ON M2N 5V7
To register, please email ddmba.toronto@gmail.com, or call 416-855-0531 to leave a message