Buddhist temples being built in Kawartha Lakes
by Mike Walker, CTV News Barrie, May 30, 2014
Ontario, Canada -- A Buddhist temple and retreat being built in Kawartha Lakes will be one of the largest of its kind in North America by the time it is complete.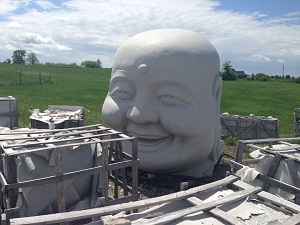 It is expected to draw thousands of tourists.
The sound of a peace bell could be heard across the rolling hills of Kawartha Lakes and Peterborough County on Friday. It's in the rural community of Bethany where work is underway on the largest Buddhist temple complex outside of China.
Temples
A major Buddhist Temple is under construction in Kawartha Lakes. (Mike Walker / CTV Barrie)
"The pilgrimage sites in China are far apart and people can't afford to go to one site and the next. So if we bring it to Canada (we) give people a chance to experience that same pilgrimage," says project manager Diane Chen.
Designed to replicate sacred sites in China, the Cham Shan Temple has been 20 years in the making. It will include four main temple sites spanning over 1,700 acres. The Abbott or head monk says this area was chosen because it best represents the four great Buddhist mountains in China.
"We wanted a community for Buddhists to come here for prayer and meditation," says Ven. Dayi Shi.
"We need good sites to build meditation centres, we need lots of land for the peace and tranquility that you would not find in the city," adds Chen.
The first of four sites includes a large main temple surrounded by four smaller temples, a garden and thousands of statues – including a giant Buddha. The head alone weighs 26 tonnes.
It will not be a retreat for people who practice Buddhism; the temples will also be open to the public. When the temple opens it's expected to draw more than 45,000 tourists every year with an economic impact of $3.5 million. Kawartha Lakes Director of Economic Development says the large cultural attraction will lead to massive investment opportunities.
"For us to attract new tourism opportunities, new food opportunities for agriculture, new investment opportunities such as hotels - it's unlimited what we can do with this," says Lance Sherk.
Building a temple of this size is a huge undertaking. Every statue is carved by hand in China and shipped over. The massive rosewood pillars to build the temple are also sourced and fabricated in China and ancient building techniques are being used.
"Not a single nail is used. It's interlocking brackets and this technique is not known in Canada," added Chen.
It will take another 80 years to build the entire complex. The first temple is expected to be built and open to the public with six years.