Buddhist chaplain helps deliver six Parapan Am medals
by Pamela Kiss, Centennial College for Postmedia News, August 20, 2015
TORONTO, Canada -- The Buddhist chaplain who helped guide athletes to six medals at the Pan Am Games helped to deliver six more medals at the recently completed Parapan Ams.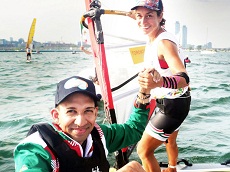 Toronto native Zenji Nio, working out of a temple in the Athletes Village, provided spiritual guidance to athletes who went on to win one gold, two silver and three bronze medals.
Brazilian tennis player Guilherme Da Costa, who plays in a wheelchair and has reduced function in his racquet arm, credits Nio with helping him to his first big win.
"I had been doing meditation in Brazil, but when Zen taught me about Buddha, my practice became so much more powerful," said Da Costa.
Da Costa not only won bronze in the Men's Singles Class 2, but he also took home a gold medal in the Men's Team Class 1-2, as well.
"All the spirituality, meditation and motivational techniques that Zen taught me will always stay in my heart for all of my life and will help me not only in Rio but also in the game of life itself," said Da Costa, 23.
Nio worked through the entire Games. When the centre shut down at 11 p.m., he would coach athletes outside on benches until well past midnight. When that wasn't an option, he communicated with them through WhatsApp.
Nio said he feels blessed to have worked with so many athletes, but the Parapan athletes were particularly inspiring.
"The difference in terms of the experience was that here you have people who have had extraordinary difficult challenges in their life, and yet they are able to maintain this optimistic attitude," he said.
"It is a two-fold process working with them because they are very nice to say that I am inspiring them and helping them in their most important hour of need, but they in turn are teaching me and everyone a lesson," he added. "All of us who have a so-called able body, we have something to learn from these athletes."
As was the case at the Pan Am Games, Nio worked with many Latin American athletes. Once again, he showed his teachings can transcend any language barrier, using Sanskrit, a philosophical language in Buddhism, to chant his mantras.
"The mantras in Sanskrit set such a powerful vibration in the athletes that they would come to me constantly saying they want me to give them a blessing in that language," said Nio.
Many of the athletes he worked with also wore his Buddhist Rosaries, with the inscription: "Namo Amida Kannon." Amida is the source of all light, all positive energy, all life and salvation, while Kannon is the embodiment of hope and overcoming the odds. Together, Kannon and Amida is the higher being manifesting in its most beautiful positive way, explained Nio.
"I was never into religion, but the mantra Namo Amida Kannon that Zen taught me was so empowering, I cannot find the words to describe it," said Venezuelan sprinter Elixon Maldonado, who acted as a guide for visually impaired runner Isabel Osorio in the 1500m (T12) event.
Maldonado visited the centre for counseling and worked with Nio to address some of the issues he felt were impeding his chances of victory.
"I was dealing with so many problems – physical pain and injuries, financial stress and lack of confidence," said Maldonado.
He and his partner ended up winning bronze.
Alberto Creton, a member of Argentina's visually impaired 4×100-metre relay team, said Nio's counselling helped him to believe in himself.
He and his teammates chanted mantras with their Buddhist rosaries on the track before their race – and won a silver medal.
Afterwards, the entire team sent Nio a card. It read: "Thank you Zen for teaching us how to meditate and bring our better selves out."
Sergio Paz, a 43-year-old from Argentina who won the men's discus title in the F11 category, took several extra Buddhist rosaries for his teammates and said he will use Nio's techniques at the Rio Paralympics next year and at the upcoming Para World Championships.
Esther Faskha, head of the Panama Olympics Committee and chef de mission for the nation, was a regular at Nio's temple and left with a special extra long rosary from the holiest Buddhist temple of India as well as a copy of "The True Gospel of Lord Buddha" – a Buddhist Bible compiled by Nio especially for Pan Am athletes, to highlight the most important teachings of Buddha.
Athletes from all over the world are now carrying copies of Nio's book and continue to contact him for more information on Buddhism, he said.
"One of the members of the Panama delegation was dealing with a serious health crisis and I saw how effectively Zen used meditation and spirituality to help her," said Faskha. "When the doctors gave her back good results, she asked me to personally thank Zen in the strongest terms."
Faskha said she hopes to see Nio at the 2016 Games in Rio.
"Spiritually, (Nio) has helped complete the part of me that was missing and I will personally recommend him to the organizers of the Rio Olympics when I meet them in a few weeks."
Nio believes the chances of him providing guidance at a similar chapel in Rio next year are good. In the meantime, he will open a Pan Am Buddhist and Motivational Centre near Trump Hotel in Toronto as a permanent legacy of the biggest American sports event in history.