Buddhist monks embracing the spirit of Christmas
by Dave Stewart, The Guardian.pe, December 17, 2016
While Buddhists do not observe Christmas, they share many similar values with people who do

LITTLE SANDS, P.E.I. (Canada) -- P.E.I. Buddhist monks and nuns don't observe Christmas, but they are still making plans to don their Santa hats.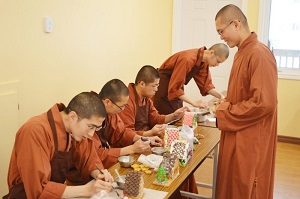 The Great Enlightenment Buddhist Institute Society (GEBIS) and the Great Wisdom Buddhist Institute (GWBI) both plan on embracing the spirit of giving as a way to thank Islanders for all their generosity.
The GEBISa monks have been on the Island for the past seven years while the GWBI nuns have been here for the past four years.
While Buddhists do not observe Christmas, they share many similar values with people who do. They make a light offering as light symbolizes wisdom. They will make a candle light offering and put up lights on trees, dedicating it to all beings for attainment of wisdom and elimination of darkness.
They also perform many acts of kindness during Christmas.
"We're so appreciative of what Islanders have done for us so we want to pay back Islanders and one particular event that we are doing this year is to offer a Christmas meal,'' Venerable Xing-Xun told The Guardian through an interpreter at the monastery in Little Sands.
That free meal will be held today for seniors in Murray Harbour.
During The Guardian's visit, four monks were hard at work on making gingerbread houses to give away as gifts at the supper. These aren't normal gingerbread houses. It was taking each monk almost four hours over five days to finish them. Each contains ingredients sourced locally.
The monks are also welcoming Islanders into their home in Little Sands on New Year's Eve from 2:30-3:30 p.m. to come into their prayer hall, ring the bell and pray for blessing in the New Year.
Buddhist nuns have put up a Christmas tree outside their monastery in Uigg, decorated with colourful lights.
Venerable Sabrina said the nuns enjoy experiencing the festival spirit and joyfulness at this time of year in P.E.I.
"We want to fit in with the Island and also just kind of give back to our neighbours,'' Sabrina said. "We've been hanging up some Christmas lights. It's really beautiful. We have a really big tree outside and then we put lights on it and we've been giving out treats to our neighbours and our friends, just because we really like the gift-giving part of Christmas.''
The monks and nuns will be following the same routine and daily schedule on Christmas Day as any other day of the year. Morning and evening prayers are dedicated to peace and happiness for all people.
Still, Venerable Yvonne talks about the birth of Jesus and what it means.
"We believe that by having Jesus to be up here in the world, he brings a lot of positive influences to people,'' Yvonne said. "We want (the same thing), to make positive changes and different influences to the world. I personally want to do that.''
Yvonne said her wish will be to do whatever she can to make her parents and all the people around her happy.
"After my breakfast (on Christmas Day) I wish that whatever I do . . . I can send out best wishes to the people (of P.E.I.).
"It may be just another day for me but the birth (of Jesus), it's inspiring us to do something better for the world. It's good practice for us, too.''
The nuns were still thinking about ways they could give back at Christmas but seemed warm to the idea of just going out and greeting people and wishing them well.