Young and Buddhist
by NICHOLAS KEUNG, Toronto Star, July 22, 2005
Youthful followers of ancient Eastern religion gather in Mississauga this week. They try to dispel the notion it's an 'old people's religion,' writes Nicholas Keung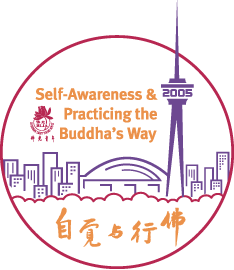 Mississauga, Ontario (Canada) -- Under five giant golden Buddha statues and the solemnly watchful eyes of robed monks, young people in shorts and headbands, some carrying MP3 players, are filling a normally dead-quiet temple with thunderous cheers and rhythmic clapping worthy of a Canadian Idol performance.
The morning pep rally may seem a peculiar sight in a Buddhist temple, but it's exactly what Venerable Yung Ku of Mississauga's Fo Guang Shan Temple has been hoping to see: a new generation of young, enthusiastic Buddhists eager to practise and pass on this ancient Eastern religion.
The 350 youth ? delegates aged 13-30, from 13 countries, including Canada ? are here not only for fun, but also to talk about getting involved in global issues and spreading the message of peace around the world.
And there's some good karma in the timing of this, the ninth International Buddha's Light Young Adult Conference, as Canada's 300,000 Buddhists ? some 97,000 in Greater Toronto ? celebrate the centennial of Buddhism in this country. Yesterday's opening and welcome by Mississauga Mayor Hazel McCallion marked the first time the four-day conference has been held in Canada.
In 1905, a group of Jodo Shinshu Buddhists from Japan established the first Buddhist temple at the Ishikawa Hotel, on Powell St. in Vancouver, long before the Dalai Lama ? the exiled leader of Tibetan Buddhism ? popularized Buddhist teachings in the West. Some of the earliest Chinese settlers in Canada, those who came to help build the transcontinental railway, were also Buddhists.
"A lot of people think that Buddhism is an old people's religion because they see people blindly following a faith by just chanting and meditating," says Ku, who was ordained at 22.
"But those things are just rituals. You can only learn about a religion by understanding the philosophy behind it. The old generation of Buddhists lived in seclusion, and what we're trying to do in this day and age is to bring Buddhism back to the society from the mountains, bring it back into people's daily lives."
And youthful chatter and laughter helps break the pin-dropping silence of the temple, adds Ku, who doesn't seem a bit bothered. "The youth are so energetic," she says with a chuckle, "and we need a lot of energy to catch up with them."
Born and raised in Sao Paolo, Brazil, visitor William Ou remembers his Chinese grandparents meditating and sometimes mumbling incomprehensibly for hours while kneeling on a mat in a temple, enduring stinging smoke from burning incense and praying for "good health, fortune and peace."
"You saw all these Buddhists in robes, praying for things from Buddha. You thought it's something superstitious and for old people only," recalls the 21-year-old business student.
"Then I heard about the youth conference last year (in Taiwan). I went and saw all these young people and realized you can be young and active and be a Buddhist. It's all about going out, meeting people, connecting with people and helping people."
The Buddhist movement has gained momentum even in traditionally Christian countries like Sweden, where Fredrik Busk was raised.
The 16-year-old high school student from Stockholm took a school field trip to a temple in 2002 and was so impressed by the tranquility he sensed there that he went back on his own. He converted formally three years ago.
The common impression of Buddhism, he says, is that "it's an old religion that's stopped in time; that it's against gays and condom (use) and abortion. But Buddhism is a very adaptable and dynamic religion," notes Busk, whose parents are Christian. "Its basic philosophy is: Love is love."
Venerable Tzu Jung, secretary-general of the Buddha's Light sect's world headquarters in Taipei, says it now boasts one million followers, three universities, 16 colleges, nine galleries and 200 congregations around the world. In an era of enterprise and "branding," it also runs its own publishing company and television programs.
"It is important that youth develop self-awareness. They have to know who they are, what they want before they can help and serve others," Jung explains.
"Education is important. However, the essence of education is not just about knowledge, but to learn to conduct yourself as a person, knowing how to relate to other people," she points out. "People go after religion and spirituality for their own reasons. For us, being a Buddhist is all about becoming a good person, doing good deeds and living in peace."
Sung Yeow Swee, of Malaysia, says a shared faith helps break down cultural walls.
"We belong to different races and some of us speak different languages, but we all want peace and tolerance," says the 30-year-old financial analyst, who has been to six previous conferences. "I really like the humanistic approach of Buddhism. It allows us to see through our differences. After all, we are all one people."
Jacky Fan, who heads the Mississauga temple's youth group, says he'd like to see Buddhist philosophy flourish on Western soil, with a new generation of native-born-and-bred Buddhists.
"We've had a hundred years of history here. This is a new start for us," says the 28-year-old Mississauga architect, who helps run a scout troop out of the temple. "This new generation is strong, and we hope to carry Buddhism on and keep it going."
Conference details can be found at http://www.bliayad.org/2005iblyac/english/index.htm