Heaven and Halifax at Buddhist 'royal wedding'
by JANE ARMSTRONG, The Globe and Mail, June 3, 2006
Robes and kilts are all the rage as spiritual leader and bride celebrate
HALIFAX, Canada -- He runs marathons, writes poetry and is an expert calligrapher. She is a dancer and speaks five languages. He loves Nova Scotia. She's never been here.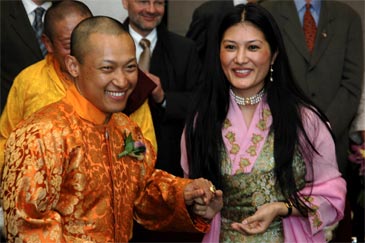 << Sakyong Mipham Rinpoche, the spiritual leader of the Shambhala Buddhist movement weds Tseyang Palmo in Halifax
They met in a Buddhist monastery in India last year. Her dance company was performing and he was teaching. He fell instantly for the graceful dark-haired beauty and arranged to meet her family the next day for tea.
Next Saturday, Sakyong Mipham Rinpoche, who is the spiritual leader of the Shambhala Buddhist movement, will wed Tseyang Palmo in Halifax in a lavish three-day wedding ceremony being billed as a "royal wedding" among Nova Scotia's Buddhist community.
The happy event is a coming-out party, of sorts, for Nova Scotia's Shambhala Buddhists, who number about 600 and arrived here in the early 1980s, mainly from the United States, on the urging of their teacher, Chögyam Trungpa, the groom's late father. In the late 1970s, Mr. Trungpa picked Halifax to be the world headquarters for Shambhala Buddhism.
Mr. Trungpa, who is credited with introducing Tibetan Buddhism to the Western world, died in 1987. His U.S.-raised son, the Sakyong, has continued his father's work. Although based in Halifax, the Sakyong travels most months of the year, holding seminars on meditation and promoting his books.
Next week's elaborate wedding ceremonies will be an amalgam of Asian and Celtic-Canadian culture; purple-robed monks will mingle with kilted bagpipers from Nova Scotia's fabled 78th Highlanders. A Japanese bow maker will perform an archery presentation just before the daily firing of the noon gun atop Halifax's Citadel fortress.
The boomer-aged Buddhist wedding planners in Halifax lend a New Age twist to the tradition-steeped ceremonies.
"We're trying to remember to breathe," said Shambhala practitioner and Haligonian Richard Peisinger.
Over the week ahead, Mr. Peisinger and fellow planners must also remember to pick up the 40 dozen Digby scallops and 40 dozen curry chicken tikka skewers for the reception dinner on June 10.
The wedding has mushroomed to 1,100 from 500 guests, who will be arriving from India, Nepal, Tibet, Europe and the United States.
The wedding is the talk of this foggy East Coast city, and organizers are praying -- or meditating -- for good weather for the first ceremony next Thursday, a lhasang, in which juniper is burned to purify the environment. It's to be held outdoors at Halifax's historic Citadel and will be open to the public. The wedding ceremony is in a downtown convention centre.
Among the guests will be Buddhist monks from Tibet, Nova Scotia MP Alexa McDonough, Lieutenant-Governor Myra Freeman and comedian Cathy Jones, who practises Shambhala Buddhism.
Halifax Mayor Peter Kelly has joined the Buddhist wedding bandwagon, declaring June 10 Blossoming of the Sun Day.
Mr. Peisinger and fellow planner Wendy Friedman are organizing cars, hotel rooms and billets for the foreign guests. They say it's the first public event Buddhists have held since arriving in Nova Scotia a quarter-century ago.
"For us, it's an offering to the couple, but also to the community," Ms. Friedman said. "To share it with everyone in Nova Scotia." Ms. Friedman, who owns a clothing store, is a native of South Carolina. Mr. Peisinger is from Westchester, N.Y.
"It's just been fun to have a big celebration," Mr. Peisinger said. "Everyone is getting a big charge out of it. There's a great sense of sharing."
Ms. Friedman added that the wedding is also a way for Halifax's Buddhists to express affection for Nova Scotia.
"It's a way for us to say, 'We're not mysterious. We're open. If you want to know more about us, just come on down.' "
Relations between residents of Halifax and the Buddhists weren't always rosy in this Maritime province, where Nova Scotia's renowned friendliness is extended to tourists but not necessarily to outsiders with unfamiliar beliefs.
"There has always been a thin line between Nova Scotia's famous hospitality and xenophobia," said David Swick, who wrote a book about Nova Scotia's Buddhists.
"We are now less xenophobic and more confident," Mr. Swick said. After arriving in Halifax, Buddhists opened ethnic restaurants, cafés, bookstores and other businesses.
Mr. Swick said that the Buddhists and Nova Scotians benefited from the influx. The Buddhists made Halifax more cosmopolitan and Haligonians helped Buddhists "achieve what they wanted, which was to rub off some of the more aggressive and unsavoury aspects of American culture." Halifax also gave them "a sane place to practise."
The groom's father fled Tibet in 1959 after the Chinese invasion, settling first in India, then England. The Shambhala tradition, which he followed in Tibet, emphasizes meditation and urges people to work for an enlightened society.
Mr. Trungpa is credited with introducing Tibetan Buddhist principles to the Western world. In 1970, he moved to Colorado, where in Boulder he established North America's only Buddhist university.
By the late 1970s, Mr. Trungpa was dissatisfied with U.S. society. On a trip to Nova Scotia, he found a down-to-earth people who valued friendships and family, Ms. Friedman said.
Mr. Trungpa urged Shambhala practitioners to follow him, and hundreds did.
The Shambhala movement has about 175 learning centres in the Western world, with about 7,000 members.
The Sakyong and his wife will live in Halifax, in Kalapa Court, a waterfront home owned by the Shambhala Buddhists. It's undergoing a $370,000 renovation in preparation for Ms. Palmo's arrival. Wedding guests have been asked to donate $100 each to the new home.