Billionaire's boost to Buddhist studies
by NICHOLAS KEUNG, Toronto Star, Aug. 26, 2006
Robert Hung-Ngai Ho has an ambitious plan to spread the seeds of Buddhism from the Far East to around the world.
Vancouver, Canada -- While the eastern religion commends frugality and abstinence from a life devoted to material things, it also teaches generosity and kindness — which is what the immigrant billionaire from Hong Kong tries to exemplify in his philanthropy. That includes this week's $4 million gift to the University of Toronto at Scarborough, the largest donation ever received by the satellite campus.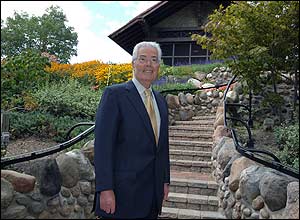 << MICHAEL STUPARYK/TORONTO STAR
Retired billionaire businessman Robert Hung-Ngai Ho, who now makes his home in Vancouver, has gifted $4 million for Buddhist studies to the Scarborough campus of the University of Toronto.
Since 2000, Ho has donated millions of dollars to establish academic programs in Buddhism at universities in Hong Kong and Thailand in the name of Tung Lin Kok Yuen, a non-profit Buddhist group founded in 1935 by his late grandparents, who began the family fortune.
Now, the retired Vancouver-based businessman and one-time journalist hopes to encourage academic Buddhist studies in his adopted homeland. This week's announcement at the Scarborough campus, which will bolster the U of T's existing Buddhist studies program, followed an identical donation in February to the University of British Columbia.
"Our vision would be to see Buddhism not just as a religion predominant in Asia but to be more widely known and better understood by the international community," Ho told a luncheon held at the campus Wednesday in appreciation of Ho's generosity.
"Buddhism, like many of the other religions, has been an integral part of our global cultural development and will continue to grow in harmony with our society globally."
Born into a Buddhist family, Ho, 74, said he did not enjoy going to temples or Sunday religious school until he turned 40 and began seeking spiritual growth. After studying various religions, he felt Buddhism suited him best because of its principle of self-salvation.
"It teaches you to do everything on your own, to rely on yourself instead of any supernatural powers or gods," explained Ho, who retired in Canada in 1989 after retiring as publisher of Hong Kong's Kung Sheung Daily Press. (A master's graduate of Columbia University's journalism school, he had worked at the Pittsburgh Press and National Geographic, for a time as White House correspondent, before returning to Hong Kong.)
`Our vision would be to see Buddhism ... widely known and better understood'
Donor Robert Hung-Ngai Ho
"Unfortunately, people mix up their superstitions with Buddhism, turning it into a mythical chop suey, so others think that Buddhists are a bunch of voodoos."
That's why Ho has put his energy and resources into building a strong global network of Buddhist studies programs at academic institutions, which can help debunk misconceptions about this ancient religion.
The gift will support a visiting professorship and lectureship program in Buddhist studies, as well as conferences, public lecture series and scholarships.
Professor William Bowen, chair of the humanities department at Scarborough, said the visiting lectureship will enrich interdisciplinary studies in visual and performing arts, religion, philosophy and more.
Studies of Buddhism and other eastern religions have proved popular, he said. A first-year course in religious traditions of the East has already reached its capacity of 500 students, and a second-year introduction to Buddhist philosophy course is filled with 86.
"But the most spectacular impact is that our students and the community as a whole will be exposed to a changing roster of international experts, and given immediate exposure to the vitality of research in Buddhist thought and culture," noted Bowen, adding that the Buddhist conferences and lectures will start in September 2007.
The soft-spoken Ho said he learned much about generosity from his grandparents, the late Lady Clara and Sir Robert Ho Tung, who headed what was perhaps Hong Kong's wealthiest family long before fellow billionaire entrepreneur Li Ka Shing became a familiar name to Canadians.
Born to a Dutch father and Chinese mother, Sir Ho made his fortune in real estate and commodities trading. Many parks, schools and buildings in Hong Kong have been named after him, and the Ho clan remains one of the most influential in Hong Kong's business community.
All the charitable giving, according to Ho, is simply "in accordance with Lady Clara's compassion and sacred vow to spread out beyond Hong Kong so that overseas Chinese and foreigners would be enlightened by the Buddhist doctrine."
Ho said he's also negotiating with a U.S. university to build a Buddhism study centre south of the border. He declined to name it, but Ho has already donated more than $30 million to his alma mater, New York's Colgate University, to fund projects in the sciences and Asian studies.