British Columbia set to welcome Dalai Lama
by ROD MICKLEBURGH, The Globe and Mail, Sept 6, 2006
The time is right for visit from the spiritual icon, his old friend says
VANCOUVER, Canada -- Victor Chan has told his story many times. How a chance kidnapping in Kabul, when the storied city was a haven for adventurous hippies, led to a meeting with the Dalai Lama that changed his life.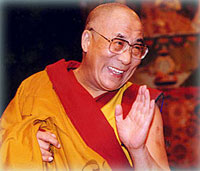 He never tires of recounting showing up for the face-to-face encounter in clothes he considered the height of hip in 1972 -- black velvet trousers, a black cotton shirt and a flowing black cape. At the sight of his pony-tailed caller, the exiled spiritual and political leader of Tibet, then 37, burst into uncontrollable giggles.
Today, 34 years later, Mr. Chan is a confidante of His Holiness the 14th Dalai Lama, co-author with him of a recently published book on his life and teachings called The Wisdom of Forgiveness.
And he is running himself ragged preparing to welcome his Tibetan friend to Vancouver today for the second time in two years.
Print Edition - Section Front
It is a rare return visit in such a short time by the revered spiritual icon and Nobel Prize winner. Despite health concerns that led him to cancel a European tour this summer, he is coming here for a series of public dialogues and to give his blessing to Mr. Chan's plans for a $60-million Dalai Lama Centre for Peace and Education, scheduled to open in the city in 2009.
As always, despite countless hours of discussions and one-on-one interviews with the Dalai Lama over the years, Mr. Chan is intimidated by the prospect of seeing him.
After all, this is not your ordinary pal. He is still the Dalai Lama, a celebrated fount of wisdom, deeply steeped in the intricacies of Tibetan Buddhism, and one of the most admired figures in the world. Believers worship him as a god.
How do you engage someone like that? Mr. Chan tells a funny story.
During one of their many talks, Mr. Chan noticed the Dalai Lama starting to yawn. The Dalai Lama soon ordered an aide to bring some instant coffee. But not for himself. For Mr. Chan.
"It was so I could come up with more brilliant questions. You can see I still have so far to go."
Mr. Chan said this is a good time for the Dalai Lama's visit.
"We are hearing all these negative things in the news. So many people being killed. We need an antidote," said Mr. Chan, a resident of tranquil Bowen Island, just off the B.C. mainland.
"The Dalai Lama believes absolutely that warfare and bloodshed are completely out of date."
The Dalai Lama has lived in Dharamsala, India since 1959, when he fled Tibet during a failed uprising against Communist Chinese rule in the remote Himalayan territory.
In 1989, he won the Nobel Peace Prize for his concerted preaching of non-violence and his campaign on behalf of Tibetan culture and religious freedom.
Earlier this year, Parliament ignored strong protests from China and voted to award him honorary Canadian citizenship, joining Nelson Mandela and slain Swedish diplomat Raoul Wallenberg as the only individuals to receive such an honour.
Although he did not meet the Dalai Lama again until 1994, Mr. Chan said his fateful encounter more than 20 years earlier transformed him.
It happened after Mr. Chan and two women travellers were kidnapped in Kabul. They managed to escaped when their captors' car went off the road. Mr. Chan took up with one of the women who had a letter of introduction to the Dalai Lama. He decided to go with her.
"For that to happen to a nice Hong Kong Chinese boy is unusual. Since then, I have basically spent my whole life being involved with Tibetan culture and sacred geography," he said.
"When I wake up, the things that sit in my mind are the thoughts of the Dalai Lama."
The Dalai Lama will be welcomed at city hall this morning by Mayor Sam Sullivan, followed by three days of dialogue on peace, compassion and kindness, beginning Friday.
Mr. Chan said that, even at 71, the Dalai Lama continues to follow a punishing agenda.
He rises at 3:30 a.m. every day, meditates for at least several hours, then does business and public meetings until about 5 p.m.
"Everybody wants him, and they all want wisdom and for him to touch them in ways that are life-transforming. He doesn't want to disappoint," Mr. Chan, himself 61, said.
"He knows people expect a certain insight from him. It's very tiring. There's a lot of psychic energy involved."
So Mr. Chan has learned that his special relationship with the Dalai Lama pales when it comes to meeting the public.
"He likes everybody," Mr. Chan said.