Female a first in Buddhism Masumi Kikuchi is host minister for British Columbia Buddhist Convention
By Matthew Hoekstra, Richmond Review, Nov 11 2006
Richmond, British Columbia (Canada) -- As a minister, Masumi Kikuchi is breaking new ground. The 35-year-old is the first female minister in the 100-year history of Jodo Shinshu Buddhism in Canada, and this weekend is the host minister for the British Columbia Buddhist Convention.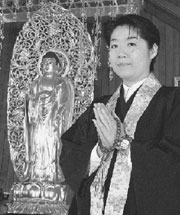 << Masumi Kikuchi, the first female minister of Jodo Shinshu Buddhism in Canada, will host delegates for this year's B.C. Buddhist Convention - Mark Patrick photo
The convention is being held at Steveston Buddhist Temple, 4360 Garry St., where Kikuchi is the minister. Approximately 170 delegates from around B.C. will gather for the annual spiritual event for fellowship and to hear lectures from a variety of guest speakers.
Kikuchi was born into a temple family in Japan. At the age of 18, she decided to become an overseas minister. But she faced a major obstacle: she was a woman.
Tradition in the Japanese Buddhist sect is for sons to take over as ministers at temples in the Asian country. Women in those families are also ministers, but are primarily housewives and only lead worship services in extraordinary circumstances.
"I said I have no interest in becoming a housewife," Kikuchi said.
"I don't think there's any difference between men and women (ministers)."
She came to Canada four years ago to take over the reins at the Toronto Buddhist Church and transferred to Steveston almost a year ago, where she's found the 350-strong congregation accepting of a female minister.
"They are positive. They feel our school Jodo Shinshu is very modern and we accept female ministers," she said.
Attitudes are also changing toward women in leadership positions in other religions and denominations.
Most mainstream protestant churches ordain women, for example, and women also lead services as Hindu temples.