U.S. army deserter claims refugee status in Canada
CTV.ca News Staff, Dec 6, 2004
Toronto, Canada -- U.S. soldier Jeremy Hinzman is seeking political refugee status after fleeing military service in Iraq to avoid a war he calls illegal. Hinzman, 26, appeared before an Immigration and Refugee Board in Toronto on Monday. During the three-day hearing he will be trying to convince the board that his life will be in danger if he returns home.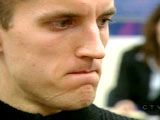 "He wants to stay here because he doesn't want to be in a jail in the United States," said Hinzman's lawyer, Jeffry House.
Senior Canadian immigration officials have ruled that whether the war is illegal is irrelevant in Hinzman's case, but that continues to play a part in his testimony.
If Hinzman does not obtain refugee status, he could be deported to the United States and prosecuted as a deserter. If he is granted refugee status, some critics have said it could open the door for even more U.S. deserters to arrive in Canada.
Conservative MP Randy White says Hinzman's case is an example of someone "evading prosecution, and not persecution."
Hinzman joined the army in 2001 and trained as a paratrooper. He said he signed up at his father's urging because it would have allowed him to receive a university education, adding that he wanted to study law, medicine or become a teacher. But he says his thinking changed after going through extensive combat training.
"When we marched, we chanted 'trained to kill and kill we will'," Hinzman told the board Monday. "I remember becoming hoarse from shouting this ... it really hit me. I learned I have a big inhibition about taking human life."
By August 2002, the practising Buddhist applied to be a conscientious objector -- meaning his personal beliefs prevented him from participating in war.
"I signed up to defend the country from all enemies, foreign and domestic -- not to carry out acts of aggression," Hinzman was quoted as saying earlier this year.
His application was delayed and he was sent to Afghanistan but served in a non-combat post. His application was turned down while he was serving there.
When he got his orders to ship out to Iraq in late 2003, he fled his North Carolina base and moved to Canada with his wife and toddler son. His wife is also seeking asylum.
The U.S. army has declared him AWOL: absent without leave.
Deserters from countries with compulsory military service have been granted refugee status in Canada. But this case is different, since Hinzman volunteered for military service.
Another U.S. deserter, Brandon Hughey, 19, is also seeking refugee status here. He slipped past military police in Texas in March, a day before his unit was scheduled to go to Iraq.
Hughey will get his refugee hearing after Hinzman's case is complete.
With files from CFTO's John Musselman and Canadian Press