Himalayan Art Has 'Long Links'
By Brett Featherston, Epoch Times, June 9, 2007
Vancouver, Canada -- Sunny cloudscape graphics in the windows and hundreds of brightly-coloured Pashmina scarves lining one whole blue wall of Himalaya Arts and Crafts create the kind of kaleidoscopic atmosphere one might find inside a rainbow.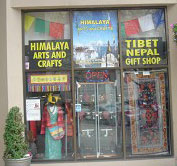 << Storefront of Himalayan Arts and Crafts, located at 711 Broadway St. in Vancouver, British Columbia. (Pemten Lama)
Situated on West Broadway, owner Pemten Lama says Vancouver's first store offering gifts exclusively from Tibet and Nepal has been doing well since he set up shop in March. "People love it because it's a little bit different...people are telling their friends."
Although a recent addition to the Vancouver community, Lama has been a wholesaler in the Himalayan art market for many years. Propelled by a wish to "serve in the community, to keep [the Tibetan] culture alive," he arrived from Tibet two years ago to join his family here and open a retail store.
He is now able to personally share with the public the craftsmanship and ancient beauty of his peoples' art and culture. Lama offers crafts like carpets and jewelry created in traditional designs alongside those with a more modern flair, some of which he designed himself. People are drawn to the depth and symbolism in these arts, he says.
"They ask for the stories and they see the difference... I feel proud of the art and culture."
Not an artisan himself, his approach to life tends to be hands-on. Along with the intricate jewelry and gorgeous shawls renowned in Nepalese culture, merchandise such as sturdily-made clothes, hats, carpets, and even snacks and drinks point to Lama's sense of practicality.
While Lama is Buddhist, he prefers not to carry religious or overtly spiritual items in his store. He would rather quietly and holistically apply what he has absorbed from Buddhism into his daily life.
"I focus on art and culture, not religion or politics. We need an artifact like a singing bowl that everyone can use, not an image or a statue for decoration."
While open to requests for more religious items, he wants to share with his customers the humble power that multi-dimensional folk art possesses. Picking up a silver pendant, he describes how the ancient emblem keeps the wearer from harm, how it opens to store medicine or photos inside, and finally points out its all-around beauty as a piece of jewelry.
Lama believes Himalayan art's multiple dimensions reach across cultures and through time. Recently, a tourist from the Southwest US, a Native American man, visited Lama's store and was taken with the craftsmanship and design of a certain Tibetan bracelet. Recognizing in it something of his own cultural past in New Mexico, the exotic bracelet served as visceral connection to his ancestors and his own traditions. The tourist was so moved by this encounter that he shed tears. "His forefathers were craftsmen. Seeing my art he became so emotional," Lama says.
"Art has long links," says Lama, referring to how connections can survive across time and space. Standing in Lama's store, around me I see the rich colors and pure designs found in the old arts in so many places around the world. Every color is represented and adds to the overall beauty.
Like Lama's own practice of Buddhism, the spirituality inherent in readily-usable folk art is sometimes obscure, but to discover that deeper content lies just beneath the surface comes as no surprise. Relying on a strong foundation and a daily personal practice of meditation, Lama says that Buddhism has served him in his life to "always keep cooled down," as it fosters forgiveness, friendship and respect for other cultures.
Although a recent arrival in the Vancouver Buddhist community, he says "it's like I've been here ten years. Everyone is like a brother or a sister...it makes it easier in a new society."