Tibetan Lama introduces Brock to buddhism
by Amanda Roth, Brock Press, Oct 15, 2008
St. Catharines, Ontario, (Canada) -- Brock, On Oct.7, Brock was visited by Lama Lhanang Rinpoche, a spiritual teacher who travels across the globe to guide in practices such as Tibetan Buddhism, meditation, yoga, art, culture and history. He is an artist and a thangka painter, as well as a practitioner of Tibetan medicine.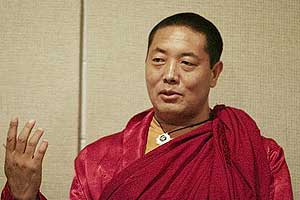 Lama Lhanang was born in northeastern Tibet at the base of the Himalayan Mountains. He grew up surrounded by the majestic scenery, studying at the local monastery.
Upon arriving in North America, Lama Lhanang had enormous cultural and language barriers to overcome. He has lived in North America for 14 years, travelling and teaching.
About 20 people attended Lama Lhanang's introduction to Tibetan Buddhism in the Rita Welch Meditation Centre in the Mackenzie Chown Complex.
As members of the audience began to arrive, Lama Lhanang remained still, hands fingering a set of wooden beads. As everyone took their seats and fell silent, Lama Lhanang surveyed the audience, and with a brilliant smile, introduced himself.
The event began with the reciting of a mantra, during which the room remained completely silent.
Afterwards, Lama Lhanang continued with an introduction of himself. He discussed the difficulties he came upon when he moved across the world to North America: the language, cultural barriers and the search for work.
Eventually he discovered the joy of spreading his vast knowledge of Tibetan culture and Buddhism to the citizens of western culture. He achieved this by way of the Wisdom Path Centres, which are placed worldwide.
Independently run by Dharma centers and non-profit organizations, these centres were inspired by Lama Lhanang's vision and created for the purpose of spreading this vision throughout their respective communities.
He continued his presentation with an introduction to the history of Tibetan Buddhism, discussing the birth of Buddha, who is the central figure of worship within Tibetan Buddhism.
With every step this religious figure took, a lotus grew. The lotus, an elegant aquatic flower, represents the wisdom and compassion that Buddhism, and the Buddha, spreads across the world.
The Buddha came to earth to teach the masses how to reach enlightenment and world peace through inner peace.
After Lama Lhanang's brief introduction to the historical aspect of Tibetan Buddhism, he opened the room to a question period, during which those who attended were able to confirm any ambiguities they had about Tibetan Buddhism. This question period turned into an educational discussion, digging much deeper into aspects of the religion not yet touched upon.
Eventually, the audiences questions diminished, and Lama Lhanang began a group meditation, which the whole audience took part in.
Concluding the meditation session, copies of a peace prayer, written by Lama Lhanang himself, were passed around and recited by the audience in unison.
Lama Lhanang has about a weeks stay in St. Catharines, where he will be visiting various events based on his teaching. He will return to Brock this week, on Oct.15, from 7-9 p.m., once again in the Rita Welch Meditation Center, for a Refuge Ceremony and Ngondro Teaching.
---------------------
For more information regarding Lama Lhanang Rinpoche and his teachings, please visit his Web site at wisdompath.org.