Temple hit by arson reopens to smiles
by Isabel Teotonio, Sep 21, 2009
Sinhalese Buddhists restore centre targeted during Sri Lanka strife
Toronto, Canada -- As the sound of little voices chanting devotional hymns filled the Sinhalese Buddhist temple in Scarborough yesterday, a smile spread across the face of Sunday school teacher Lakmini Pinnaduwage.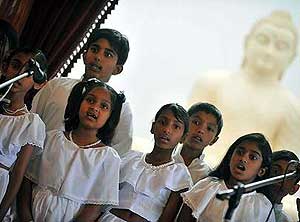 << VINCE TALOTTA/TORONTO STAR
Children sing at the Sept. 20, 2009 reopening of the Mahavihara temple.
"It's great to see all the kids here today," said Pinnaduwage, minutes before the children, dressed in their finest whites, were awarded certificates for having attended Sunday school last year. "But this should have happened in May."
Those in the city's Sinhalese community have been without their place of worship since mid-May.
That's when, during the height of protests by local Tamils as Sri Lanka's civil war reached a climax, the Kingston Rd. temple was targeted by arsonists.
The overnight blaze, which caused about $150,000 in damage and is still under investigation, occurred days after the temple received threats.
Yesterday, more than 300 people filled the newly restored Toronto Mahavihara Buddhist Meditation Centre for its official reopening, which included the postponed Sunday school certificate ceremony.
"There was a spiritual loss in the community," explained the centre's vice-president Ben Seneviratne yesterday, as he welcomed people to the temple. "But today I feel so happy. When you lose something, you gain something else. According to Buddhist philosophy, nothing is permanent."
Although Seneviratne said he is not fearful of another attack on the centre, he said there are efforts to raise about $80,000 to build a fence around the property.