Buddhists welcome new monastery
By Sam Cooper, The Province, July 26, 2010
Resident monks, lamas to teach enlightenment

Richmond, Canada -- Struck by the light reflected from the four-metre-high, gold-plated Shakyamuni Buddha, one might think they were resting in an isolated shrine in the hills of Nepal.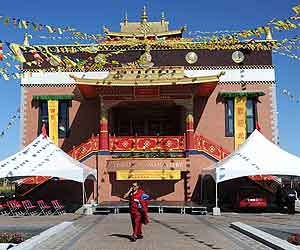 << The Thrangu Monastery, the first "traditional-style" Tibetan Buddhist monastery, officially opens Sunday, July 25, 2010 in Richmond, B.C.
Actually, it's the new Thrangu Monastery in Richmond, the first of its kind outside Asia, according to its builders.
The Thrangu Monastery will be home to seven monks and lamas from Nepal, here to guide local practitioners on the path to peace and enlightenment, said Lyle Weinstein, spokesman for the Thrangu Vajra Vidhya Buddhist Association.
At Sunday's opening ceremony, attended by Khenchen Thrangu Rinpoche, the worldwide leader of Thrangu Monastery, monks and lamas performed special rituals and unveiled the focal point of the monastery's shrine, the gold-plated Shakyamuni Buddha.
The central Buddha is flanked by 35 smaller Buddhas of confession and 1,000 medicine Buddhas that offer protection from illness and danger, spokeswoman Laurie Cooper said.
Cooper said the statues and artwork in the new shrine were created by lamas, high-level monks who go through rigorous training.
While it takes almost eight years to become a Buddhist monk, to get to the next level, a lama must go into complete isolation for three years, three months and three days, meditating in a tiny box for 24 hours a day, only exiting for meal and washroom breaks, she said.
Weinstein said from July 27 to Aug. 1, there will be a series of teachings by Khenchen Thrangu Rinpoche, called "The Jewel Ornament of Liberation."
Resident monks and lamas will guide practitioners on short-and long-term retreats, and non-Buddhists are welcome to visit the shrine, Weinstein said.
The Thrangu Monastery is at 8140 No. 5 Road in Richmond.