'Look at science the Buddhist way'
TNN Jan 6, 2012
BHUBANESWAR, India -- After delivering hard talks on chemistry at the ongoing Indian Science Congress (ISC) here, Nobel Laureate Prof Richard R. Ernst donned the garb of a Buddhist spiritual leader and philosopher on Thursday.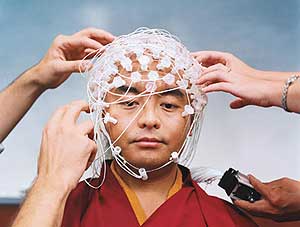 Stressing the need of a "role model", the 79-year-old Swiss Nobel laureate was all praise for Tibetan spiritual leader the Dalai Lama while delivering his lecture on "Science and Spirituality: The view of a Western Scientist" on the Utkal University campus here. The event was organised by Bhaktivendanta Institute, Kolkata.
Trying to strike a chord with the audience, Prof Ernst said: "I was immensely influenced by Buddhism and the Dalai Lama and his preaching. The Buddhist leader always looked at science from the spiritual point of view."
Ernst recollected old memories how the Dalai Lama held series of discussions with scientists to establish the link between spiritualism and science. He also spoke of the monastic Tibet Institute in Rikon, Switzerland. "The Dalai Lama was responsible of the institute. The Buddhist monastery and its Tibetan monastic community consttute a vital part of the cultural and religious life of Tibetans in Switzerland," said Ernst, who won Nobel Prize in 1991 for his contributions to the development of the methodology of high resolution nuclear magnetic resonance (NMR) spectroscopy.
The Nobel Laureate exhibited his craving for Tibetan paintings created by master painter Zhu-Chen. "I find science when I do pigment analysis in his paintings. The colour combinations in Tibetan art resembled the chemical reactions in chemistry," Ernst said. He cultivated interest in Tibetan art during a trip through Asia in 1968. Puri Gajapati Maharaja Dibyasingh Deb and Subhag Swami spoke, among others.