From Heart To Heart: Buddhist woman's critically ill mom has epiphany
By Sophia Ross, For The Register-Guard, May 8, 2005
Eugene, Oregon (USA) -- The winter holidays may be a season of miracles and goodwill, but I never expected a miracle of my own. I did not expect that my mother would have a religious revelation. She was always bitter about life, mad at God and opposed organized religion.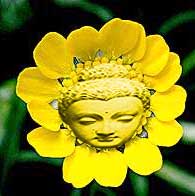 She railed against anyone with religious beliefs, calling them hypocrites, and made fun of me for studying the Bible, curtailing our studies at the Jewish temple. As a creative, headstrong child, I rebelled by getting "adopted" into religious families, spending time at the library and joining interdenominational human relations groups.
Civil rights was an approved cause, and a great cover for good works done with great folks. I shared my enthusiasm for the spiritual world, but got only benevolent disdain from Mom.
As a Tibetan Buddhist, I practice with the purpose of reducing negative thinking while increasing positive thinking, especially as I work as a hospice and geriatric caregiver. Daily, I use The Buddha Path, by Dzogchen Khenpo Choga Rinpoche. Starting each day anew, I forgive past actions and then go about the day striving to act with compassion - replacing habits entrenched during 56 years.
In practice, I recite, "I will think of all situations positively. I will perceive all appearances purely. I will live my daily life joyfully. I will watch others lovingly. I will talk to others kindly. I will touch others gently. I will help others peacefully. I will care for others compassionately." You may see how this fits a caregiver, or anyone.
I have always respected the religious beliefs of my clients, as I prayed for the benefit of all sentient beings. Making a difference in a person's life while working hospice touched my heart.
In early December, I received word that my mother was in the hospital with congestive heart failure and in rapid decline. I called her and heard her slurred voice, angry, hostile, complaining about her care. I asked my Sangha (Buddhist community) to pray for her during our practice.
So now to my miracle: Within a week, I received word that Mom had a total turnaround. She told me of her religious revelation, that she knew she was a spiritual being with a mission to fulfill, that she forgave me and that she knew there was more than just this current body. She said her heart had opened, she felt ecstatic, and acknowledged religions did have goals for good.
She gushed about this new development, acknowledging how I had felt, and that she now shared a sense of spiritual connection. This was certainly a first. I realized that in all my work, I wholeheartedly prayed for all, but admit to having basically given up on changing my mom, so I was not consciously including her in the practice. I see now that she and I, too, are part of the "all sentient beings" that I so easily prayed for.
I am humbled. I apply my spiritual beliefs with my teenage son, a farming apprenticeship, in community, extended family and my own creative projects.
-------
Sophia Ross belongs to the Dzogchen Buddha Foundation in Eugene with Dzogchen Khenpo Choga Rinpoche, and is founder of Nama Stay Sanctuary in Walton. This column is coordinated by Two Rivers Interfaith Ministries, a network of more than 35 spiritual traditions in the Eugene-Springfield area. For information, call 344-5693 or visit www.interfaitheugene.org.