Walk of hope for amputees
by Majorie Chiew, The Star, June 20, 2014
A Thai orthopaedic surgeon has devoted his life to making free prosthetic limbs for poor amputees.
Petaling Jaya, Malaysia -- WHEN he was a young lad, Assoc Prof Dr Therdchai Jivacate loved to read about air raids and aeroplanes. He imagined that one day he would take off to conquer the skies as an air force pilot. But his parents disapproved of this. They drilled some sense into Therdchai, the second of five children. Their words sank in and set him thinking about his future.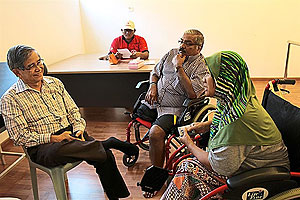 << Poor amputees need not be out on a limb, thanks to the humanitarian efforts of Thai surgeon Therdchai Jivacate (left).
Somehow, he knew they were right and decided to choose a career path that would please his parents and make them proud of him.
He decided to study medicine. In 1965, Therdchai graduated from the Faculty of Medicine, Chulalongkorn University in Bangkok, Thailand.
"Initially I wanted to be a neurosurgeon. But after working with the disabled, I felt moved to help them correct any leg deformities," said Dr Therdchai, 73, an orthopaedic surgeon. He is secretary-general of the Prostheses Foundation of HRH The Princess Mother of Thailand based in Chiang Mai.
Dr Therdchai was in Malaysia early this year for the launch of
Limbs for Life Prostheses Centre in Petaling Jaya
, an initiative by the Bandar Utama Buddhist Society, Selangor.
In 1968, Dr Therdchai headed for the United States for a four-year stint as a resident of physical medicine and rehabilitation at Northwestern University in Evanston, Illinois.
Upon his return, he specialised in orthopaedic surgery at Chiang Mai University in northern Thailand. He served in the university from 1972 to 1975.
Dr Therdchai had probably seen one amputee too many and he could empathise with them. He wanted to do something to help them.
The good doctor can still remember the smiles of amputees when they received their artificial legs.
He showed a photo of a girl without a leg; she looked glum. In another photograph, a big smile lit up her face as she walked confidently on stage. She had an artificial leg to replace the one she lost.
An inventor of prosthetic limbs, Dr Therdchai is renowned for his humanitarian work in providing free artificial limbs to poor amputees. His affordable high quality prosthetic limbs which are made from local materials, have earned him the nickname, Artificial Legs doctor, in his homeland.
Some 20 or 30 years ago, it was difficult to get artificial legs in Thailand. They were expensive.
"Amputees thought they had no chance of walking again because they could not afford the legs," said Dr Therdchai.
But some of the amputees where resourceful, and made an artificial leg for themselves out of any materials they could get their hands on.
"Some of them made artificial legs out of wood and bamboo," said Dr Therdchai. He was inspired by their determination, and sat down to design artificial legs.
"I used Yakult bottles and dissolved them in thinner and poured the liquid plastic into stump moulds.
"The dried plastic made strong materials for artificial limbs and they are much cheaper (than imported prosthetic legs)," said Dr Therdchai.
His technological breakthrough did not go unnoticed.
"When the (Thai) King's mother knew that I could make artificial legs from yoghurt bottles which cost 10 times cheaper, she set up the Prostheses Foundation of HRH The Princess Mother in 1992 and appointed me as the secretary-general," said Dr Therdchai.
Under the royal sponsorship of the Princess Mother Srinagarindra, the activities of the foundation later expanded beyond the borders of Thailand to Malaysia, Laos and Myanmar.
Besides the Thai royal family, the foundation also receives support from private donors and the Thai National Lottery fund.
To date, the Prostheses Foundation has manufactured and given free artificial legs to more than 15,000 people.
In 1993, one year after the setting up of the Prostheses Foundation, Dr Therdchai won the Thararom Quality Award for creative inventions from discarded materials. He was also voted best rural doctor by the National Medical Association of Thailand.
Invention
In 1994, the National Research Council of Thailand awarded him the third prize for the most useful medical invention.
On Aug 31, 2008, he was awarded the Ramon Magsaysay Award for Public Service by the Rockefeller Brothers Fund in recognition of his work in developing artificial limbs for the poor.
Dr Therdchai shared half of the award money (1.5 million baht) with another award winner.
"I divided the money and gave it to my co-workers (who helped make artificial limbs), and part of it to the Thai king to support his many projects," he said.
Dr Therdchai's work takes him to remote rural areas where amputees are least likely to obtain prosthetic limbs. He set up field clinics and organised mobile workshops. Teams of five to eight doctors would go on mobile clinic trips to help amputees.
Since 1992, Dr Therdchai has organised nearly 100 mobile workshops, including missions in Laos, Malaysia and Myanmar. Such activities have also been expanded to Aceh, Indonesia.
As of 2010, the mobile units have provided services to 14,000 patients, made 17,000 prosthetic legs, and repaired 2,000 artificial legs.
"The amputees (especially farmers) who are active and want to go back to work are given two artificial legs for free. One is a 'cosmetic leg' for social activities while the other is a 'farmer's leg' for working outdoors," said Dr Therdchai.
"A 'farmer's leg' is for farmers who work in the paddy fields. They can climb fruit trees or wade in creeks to catch snails," he said, referring to the more hardy version of an artificial leg.
Dr Therdchai has also been involved in research to develop artificial limbs for animals such as elephants. These days, he has no time to make prosthetic legs for animals anymore.
"There is still more that can be done to help other amputees," he said.
Dr Therdchai is planning to set up workshops in Thailand, Malaysia, Burundi (Africa), Senegal, Aceh (Indonesia) and Myanmar. These workshops will train locals to make prosthetic limbs. Some amputees want to give back to the community by making prosthetic limbs for others.
Dr Therdchai was a film consultant for Beyond Borders, a 2003 romantic drama which starred Angelina Jolie. The movie was filmed in Chiang Mai.
He reminisced: "I was a consultant and gave instructions on how to bandage amputees and paint red dye to simulate blood in scenes that showed a hospital with amputees."
Dr Therdchai's eyes lit up when asked about his role in Beyond Borders. His delight in seeing Jolie up close is tangible. And when he reflects on his own humanitarian work, Dr Therdchai is grateful for his parents' influence. He remembers well their words.
"My parents told me, 'If you're a flier, you just kill others or get killed. And, in a coup d'etat, you might end up in jail. But if you're a doctor, you can help more people.' "
As Dr Therdchai walked among the amputees, he finds great gratification in knowing that he has had a direct hand in enhancing their quality of life. His heart is lifted and his spirit soars. That feeling is better than flying a fighter jet!
If you wish to help, please visit: www.limbsforlife.org.