Spirituality begins at home
By RENEE ELDER, Gannett New Service, May 19, 2005
Ithaca, New York (USA) -- It's no surprise that we arrange our homes to reflect our personalities and interests. Literature lovers fill their rooms with books and comfy reading chairs. An enthusiastic cook may spend thousands turning a dull kitchen into a glittering showpiece.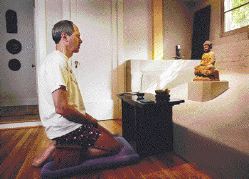 << Phil Chanin meditates in the room he and his wife Nilufer renovated to include space for their yoga and Buddhist meditation practices in the basement of their home.
Yet aside from occasional holiday decorations, the spiritual side of life rarely plays a starring role in the home.
That might be changing. Some homeowners are discovering that creation of meditation rooms, home altars and prayer gardens can be a rewarding and enriching use of living space.
"The room is great because now, even if I just have 15 minutes, I can go lie on my yoga mat or sit in front of the altar; I don't have to spend my time taking things out and setting them up," says Phil Chanin. "I like having the privacy, too."
Chanin and his wife, Nilufer, both psychologists, decided to include space for their yoga and Buddhist meditation practices during a whole-house renovation of their Nashville, Tenn. home in 2003.
They tailored their home's roomy basement to meet their needs, with new wooden floors, an altar that makes use of a former coal chute, and colors that reflect two distinct moods. One portion of the room features soft grays conducive to meditation, while the bright yellows and blues of a Tibetan temple enliven the rest.
Even without the resources to carve out completely new space, a little creativity can bring dramatic results.
The Rev. Battle Beasley, rector of St. Mark's Episcopal Church in Antioch, Tenn., places Eastern Orthodox icons throughout his home and keeps a small altar in his home office.
Invoking a spiritual atmosphere at home encourages prayer and silence, something many Americans unconsciously crave, Beasley says.
"There is a deep longing to connect with whatever is the meaning and purpose of life," Beasley says. "Most churches don't offer the opportunity for deep silence. Yet listening to God is the highest form of prayer."
While each sacred space is highly personal, Barbara Blumin, chairman of the interior design department at O'More College of Design, offers guidelines for creating an atmosphere conducive to reflection.
"We're dealing here, in a sense, with holistic design, involving mind, body and spirit and finding your sense of place," Blumin says. "You might want to fulfill those needs by considering the use of color, special materials, sounds and perhaps views to the outside.
"If you want a place that's serene and tranquil, choose a place with cool colors -- for example, the blues and greens that represent water. You also might want sound-absorbing materials, such as carpeting, draperies and upholstered furniture, as opposed to wooden furniture and tile floors that bounce sound around a room."
Other suggestions: Incorporate meaningful objects into the space, including religious or spiritual symbols, pictures and icons. Set lighting fixtures on a dimmer to enhance the mood, or opt for the soft glow of a candle or fireplace. Consider adding soft sounds, such as recorded music or chants and a small gurgling fountain. Enhance the smell of the room with incense or essential oils.
Although not so common in the United States, sacred spaces have appeared in homes throughout many cultures and periods of history, says Becky Waldrop, director of programs for Scarritt-Bennett Center, a Nashville spiritual retreat.
"There has always been a place set aside for reverence in Buddhist homes," she says. "For centuries, Christians had had icons and home altars. It's all intermixing now."
Sacred spaces tend to have many things in common, including candles and representations of nature. Gardens are also places that can be conducive to reflection.
"I have a prayer garden," Waldrop says. "It's a quiet glade with a bench where I can go out with my coffee in the mornings."
She says that sacred spaces in homes and gardens acknowledge the fact that churches, synagogues and temples aren't the only spots where spiritual communication can occur.
"Creating sacred space in the everyday world is part of honoring the fact that the spiritual is part of life and that all our life is sacred."