Buddhist dining in unexpected places
by Ananda Jacobs, Japan Times, Aug 26, 2014
Tokyo, Japan -- I've been aware of shojin ryori (traditional vegetarian Buddhist cuisine) for some time. I've had in my mind the image of a Buddhist practitioner painstakingly preparing the seasonal vegetarian dishes, mindful of each ingredient. And from time to time I have vaguely recalled that if I wanted to try it I could do so at a handful of temples around Japan.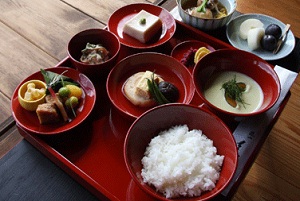 << "Shojin-ryori" cuisine prohibits the inclusion of meat, fish, onion, leek garlic and other root vegetables, as harvesting them will result in the death of the vegetables. Instead beans and fruits are used.
But never being one for planning, it was only during a spontaneous stroll through Kyoto that I thought, "Right! I'm going to try shojin ryori at once, this evening, before heading back to Tokyo!"
My brilliant idea was almost thwarted after not one, not two, but three places had either already closed for the day (it was 4 p.m.) or would only accept reservations at least one or two days in advance.
Now, I did eventually eat dinner that day, but first, the missed encounters:
One of my favorite temples in Kyoto, Ryoanji (of the famous Zen rock garden), has a restaurant called Seigen-in near the end of the walking course around the nearby pond (Ryoanji Goryonoshita-cho 13, Ukyo-ku, Kyoto-shi; 075-462-4742). Seigen-in specializes in yudofu (boiled tofu) and has a set vegetarian meal for ¥3,300. However, it is only open for lunch, and I was met with the "closed" sign promptly at 4 p.m.
Not to be swayed in my dining decision, I looked up some nearby temples and discovered that Daitokuji also has a shojin ryori restaurant, Daitokuji Ikkyu (Murasakino Daitokuji-shitamonzen-cho 53, Kita-ku, Kyoto-shi; 075-493-0019), and accepts customers until 6 p.m. for a dinner course from ¥8,000.
Another option was Kasuian (Hayashi-shitamachi 400, Chion-in, Higashiyama-ku, Kyoto-shi; 050-5570-3795; www.kurochiku-s.jp/kasuian.html), a restaurant that is not in a temple but offers shojin ryori dinner courses for around ¥6,000-8,000. Alas, both of these places required reservations in advance.
All but giving up on my quest, I decided to wander around the temples near Higashiyama. Soon weary from walking the steep footpath leading up to Kiyomizu-dera, I stumbled into Nichi Getsu-an (Kiyomizuzaka 2-232, Higashiyama-ku, Kyoto-shi; 075-561-0077; www.nichigetsuan.com). Nichi Getsu-an is a course-menu restaurant that accepts hill-trekking customers until 9:30 p.m. The signpost outside mentioned nothing of shojin ryori, but when I asked if they had anything vegetarian, the staff happily and promptly replied that two of the menu options — the yuba (tofu skin) and yudofu sets — could be prepared specially in shojin style.
The dining atmosphere was casual, and the shojin courses surprisingly only ¥2,000. I was even asked whether I'd prefer to replace items such as dashi or egg with alternatives. The set included vegetable tempura, several kinds of tofu, a hot-pot, rice, pickles and dessert, and it was here that I happily ended the day.
There are a lot more places specializing in shojin ryori throughout Kyoto, but given the city's strong Buddhist presence, it's not so surprising that vegetarianism has found its way into more casual dining spots too. Ask and you might just find your spontaneous meal wish is granted.
-------------
Ananda Jacobs is a composer, recording artist and actress in Tokyo, and has been ovo-lacto vegetarian for over 20 years. She is currently producing music for her band Jacobs. www.anandajacobs.com