'Death and Dying from a Buddhist Perspective'
By Clay McGlaughlin, Times Standard, Sept 2, 2014
Upcoming workshop examines practical and philosophical approaches to death
Eureka, California (USA) -- Despite the fact that death is a transition we all must go through (and some would argue that we have to go through it many, many times), it's still one of the most painful and difficult topics to talk about. When given a choice, most people seem to prefer to avoid it entirely, but sooner or later the subject inevitably comes to the forefront of consciousness. And when it does, the effects can be devastating if we are not prepared to face it.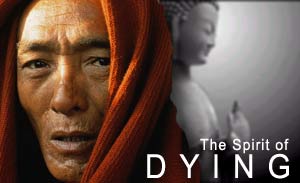 To help alleviate some of the psychological and practical problems surrounding conversations about death, Hospice of Humboldt is hosting a public talk called "Death and Dying from a Buddhist Perspective" at 6:30 p.m. on Friday at its Eureka facility, 2010 Myrtle Ave. The suggested donation is $10-15.
Paloma Lopez Landry of the Tibetan Buddhist organization Katog Choling will present the talk, which focuses not only on the philosophical aspects of death, but also on the practical steps that anyone can take to prepare themselves and their families for the transition.
"There are a lot of different perspectives, and it depends on whether you're looking at this from the philosophical perspective of what happens to consciousness, or whether you're looking at the practitioner's perspective in terms of meditation and practice in focusing awareness while dying, or looking at preparing paperwork as a kindness to those we love, and as an act of generosity to our loved ones," said Landry.
"I'll give a brief introduction to the basic concepts about the Buddhist philosophy behind consciousness and death and dying, then I'll kind of weave back and forth between dying in a western society and different stories about people who have passed away in the past 10 years here and in Tibet. I put a lot of emphasis on preparation in western society, and especially doing paperwork like living wills, trusts and other kinds of paperwork that we can do to prepare for dying."
Though she said she is not a teacher, Landry has been translating for Buddhist masters for 14 years, and has memorized much of the advice they have offered to people dealing with their own impending deaths and the deaths of loved ones.
"This is important for everyone, because 100 percent of people will die. Our society is really geared on having a good life, and since death is truly a big part of life, I say, 'Let's have a good death, too,'" she said. "We can do that by accepting death as part of life and finding ways to reinforce the positive components of it, and we can make it easier on others by thinking about preparation as an act of generosity and lovingkindness.
"So we prepare for those that we love, because it naturally brings through that process a greater sense of peace and acceptance. Whereas not talking about it and not looking into it, or not being willing to think about it and denying what is inevitable — even when we still know it will happen — doesn't necessarily do us any favors," she said.
Barbara Garza, director of community outreach at Hospice of Humboldt, said that as far as she knows this is a new offering for the organization. "To my knowledge, we haven't done something like this before with the Buddhist perspective on death and dying. I've been here for six years, so it has been at least that long," said Garza.
While she said the organization is open to the idea of other groups presenting similar workshops from different perspectives, she said Hospice evaluates each course on a case-by-case basis to see if it's a good fit. She said upcoming talks in the "As We Age" Community Workshop series deal with different aspects of end-of-life care, including caregiver resources and training.
An Advance Directive Workshop is also coming up, which is offered free of charge to anyone over 18. "The Advance Directive is a legal document that specifies your personal choices for care should you become incapacitated and can't choose for yourself about the care you want to receive," Garza wrote in an email. "We suggest people share these documents with their family and medical care providers."
Caroline Redfield, a member of the local Buddhist "sangha" (a word that translates roughly as "community"), is helping coordinate the Buddhist event. She said it came about because a member of the local sangha died recently. "We wanted to know the appropriate way to go about things in terms of the Buddhist style of death and dying, so this talk is about what Khentrul Rinpoche (the spiritual leader of Katog Choling) and the group did when the sangha member died."
Landry said that recent years have seen an increased push to get people to have "the conversation" about preparing for death. ("The Conversation" is the name of a movement that encourages people to approach end-of-life planning with their loved ones with the view that waiting too long can cause unnecessary suffering for everyone involved.)
"A lot of polls have shown that 70 percent of people or more would rather die at home, but currently 70 percent or more end up dying in hospitals because they haven't had that conversation," Landry said.
"My experience has been that talking about it and preparing for it really helps alleviate fear and bring peace of mind and a sense of having done something for others. That's really important in terms of preparation and the likelihood of having a peaceful death. Of course I'm talking about it from a Buddhist perspective, but it really is a universal truth that we'd all like a quiet, peaceful death.
"I think most people would prefer to die in a such a way that their mind is focused on love and compassion and peace. Probably 90 percent of what I talk about is really universal, and 10 percent depends on whether you think there's another moment of consciousness after death or not. I'm not trying to convince anyone of anything; it's more a matter of presenting a viewpoint."
For more information about the workshop, contact Redfield at 601-3852 or email carolineredfield@yahoo.com. To find out more about Katog Choling, visit http://katogcholing.com. For more information about Hospice and its other offerings, call 497-6260 or visit http://hospiceofhumboldt.org.