NIMHANS to research on Buddhist meditation
by Afshan Yasmeen, The Hindu, October 26, 2015
Team seeks guidance of spiritual leader the Dalai Lama
New Delhi, India -- While studies have highlighted that yoga and meditation can bring structural changes responsible for calming emotions, better memory and lower stress, the focus is now on "mindfulness meditation".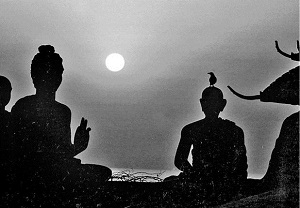 << NIMHANS's Advanced Centre for Yoga uses yoga to help psychiatric disorders like depression and schizophrenia.
Doctors from the National Institute of Mental Health and Neuro Sciences (NIMHANS), who have been working on the effects of yoga and meditation on the brain for over three decades, are set to focus on the Buddhist traditions of meditation.
The yoga team from the premier institution is not only seeking the guidance of the Dalai Lama, spiritual leader of Tibetan Buddhism, but also collaborating with the Garden of Samadhi Centre, a city-based voluntary organisation which aims to integrate scientific understanding of mind with traditional contemplative practises.
B.N. Gangadhar, programme director, Advanced Centre of Yoga at NIMHANS, told The Hindu that the benefits of yoga and meditation derive from a combination of chemical changes such as reduction in stress hormone (cortisol), changes in brain physiology, and the psychological effects of being mindful in yoga. "There is emerging evidence that can lead the way to study yoga and meditation as a science rather than a mere religious ritual and that is what we are aiming at," he said.
The Advanced Centre for Yoga in NIMHANS is using yoga and it applications to help mind-related conditions (psychiatric disorders like depression and schizophrenia) and neurological disorders such as epilepsy. "We are comparing the therapeutic effects of yoga with conventional drugs. In our investigations, there is a high degree of evidence that yoga does have a significant therapeutic effect in conditions like depression, memory loss, and so on," Dr. Gangadhar said.