Slow and steady wins this life
Story by CHOMPOO TRAKULLERTSATHIEN, Bangkok Post, Nov 11, 2004
Bangkok, Thailand -- The Wheel of Dharma, which the Buddha turned metaphorically in his first sermon after Enlightenment some 2,500 years ago, is rolling on, as a new breed of bikers hits the road.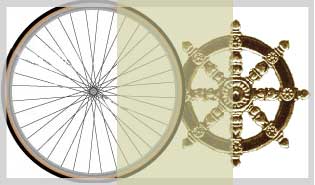 Theirs is a bike with a difference. So is their race, for the winner should be the slowest biker. The key to victory is not speed, but constant mindfulness, said Songsak Phromaban, a member of the We Love Bikes Club of Lamphun province.
First launched in 2002, this unique Thailand bike race is the brainchild of artist Venetia Walkey, director of the Dharma Park Gallery in Lamphun.
Dubbed the Dharma Bike, the spokes of the vehicle are covered with round plastic sheets divided into eight sections. The front wheel is called kong lor mak paed, or the Wheel of the Noble Eightfold Path. It refers to eight "right" conducts fundamental to one's spiritual development _ right understanding, thought, speech, action, livelihood, effort, mindfulness and meditation.
The rear wheel is kong lor haeng santipab or the Wheel of Peace. It refers to eight different sectors in society which are crucial for peace-making: culture, environment and habitat, religion and spiritual teaching, science and technology, health and relationships, economics and business, education, and governing and law.
"We need both wheels to assist each other to create a more peaceful community," said Venetia, whose dharma work has won her an Outstanding Woman in Buddhism Award this year.
Apart from being environmental-friendly, the dharma bike, said Venetia, helps reminds one to be constantly mindful during a journey of what it takes to have inner peace.
---

Competitors in this bicycle race don't pursue each other. They chase the value of the Wheel of the Noble Eightfold Path

---
"It's also instrumental in making you more aware not to cause suffering to yourself and all other beings, whether human beings, animals, the environment, or nature. Personal transformation can lead to the transformation of society and then to the entire world eventually," she explained.
The dharma bike race, as a public event, also helps to spread the words of Buddha, as well as raise public awareness about how the modern way of life can hurt nature through greed, hatred and delusion.
"When the cyclists pass any community, people often come out and ask about our message. That's already a success," said Songsak, a teacher in Lamphun province who often takes part in the race.
Venetia came up with the idea of the dharma bike two years ago in an attempt to promote the United Nations policy of building a peaceful culture and peace education for children during the first decade of the millennium.
"As an artist I try to find a new way to connect people to goodness, peace and beauty through art and Buddha's teachings. These days, our education fails to inculcate children with ethics and morality fundamental to the development of good character. We have to get ethics back to people's minds and bring them back to policies and all sections of society," said the English sculptor, who is a practising Buddhist.
"Via the Noble Eightfold Path and a peaceful mind, one can find the way out of sufferings and make wise choices in life. So my idea suddenly came to me _ use bicycles to convey the simple truth we often ignore, that true freedom is freedom from suffering," she added.
According to Venetia, Thailand is the first country in the world to promote ethics via a popular sport as a form of education.
"Today's education focuses on bringing out the ability to earn rather than bringing out good from within. What we have to do is to educate the hearts and the minds of people so they can develop their positive potential fully."
Why with a bicycle?
"It's environmentally friendly. Its maintenance cost is rather low. Besides, it doesn't go too fast [and is] safe for riders. The bike also relies on only muscle power which is good for our health. Cycling is good exercise for body and mind."
The dharma bicycle was first introduced on September 21, 2002 to mark the International Day of World Peace. With financial support from Unicef, some 200 bikes were given to school children and teachers from schools in Lamphun province.
The dharma bike rally winds up in December 2005. The activity is divided into four levels _ local, provincial, regional and national, and thus spreads the peace campaign across the country.
Though the programme seems to focus on youngsters, all members of bike clubs of all ages are eligible to join, she said. But the participants must be willing learn about the meanings of the Eightfold Path on their wheels because they will act as dharma ambassadors along their journeys, which take them to different natural, cultural and historical sites.
The latest cycling event took place last month in Phitsanulok province with some 200 cyclists, both adults and children.
Venetia calls these young cyclists the New Age knights of the round table of ethics.
"Now the country is in a war against corruption. What we have to do is to solve the root of this chronic problem by starting to implant morality and ethics [in] children who one day will grow up and be responsible for developing society. Armed with moral and ethical tools, they can fight against all kinds of corruption besieging the modern world," she said.
Venetia has a devised a strategy to inculcate mindfulness, the fundamental yet important quality, to the riders.
"For this kind of race the slowest is the winner. That is because to ride the dharma bike you have to have your mindfulness and awareness all the time.
"From awareness comes wisdom and compassion. With these values, our world can be free of greed, ignorance, hatred, delusion, war, conflict, poverty, injustice, and all kinds of corruption," she explained.
In addition to mindful cycling, the cyclists also encounter art, compassion meditation, praying and yoga in the race.
Nine-year-old Taneth Thongloy said it was a learning experience. "I just realised how the Noble Eightfold Path is so important to my life. I also learned several new skills from the different artists and learned how to adapt myself with others. Besides, I enjoy cycling so much. When I get back home I would like to introduce this activity at my school."
During their journey, the participants also had a chance to discuss how each sector in society can integrate ethics and morality in their work to bring about peace.
"People now are obsessed with materialistic pursuits," said Pongtep Manattrong, a Lamphun teacher. "Although it may seem too late, we must do our best to make things right again."
Activities are also designed to help the participants work as a team.
For example, youngsters can let their imaginations run free when an artist teaches them how to design picture frames with saa paper. But they have to work together to finish the project.
One game is a treasure hunt. The children look for eight pieces of triangle-shaped glass they can assemble into a diamond, symbolising the Eightfold Noble Path.
The group leader gives children eight poems narrating many symbolic clues to locating the eight pieces of glass, explained Suwat Timsarn, 14.
The treasure hunt taught the children about right effort. When all the pieces of glass were found, they helped one another to put them together on the diamond-shaped lamp. "When it is plugged in the light comes on, serving as the light in our life. The diamond in our life is the mak paed," said the teenager, referring to the Eightfold Noble Path.
Peace, said Venetia, must start with oneself. "We have to observe dharma and develop our spirituality. Only after that can we help to save others."
Those who want to join the next Dharma Bike Project can get information at the Dharma Park Foundation, 109/2 Ban Pasang Noi, Tambon Banpan, Muang district, Lamphun, 51000. Call 053-521-609 or email