Does distant prayer heal?
BY HILARY MACGREGOR, Los Angeles Times, June 14, 2005
Science is still trying to decide
Los Angeles, USA -- On an operating table at a medical center in San Francisco, a breast cancer patient is undergoing reconstructive surgery after a mastectomy. Three thousand miles away, a shamanic healer has been sent the woman's name, a photo and details about the surgery.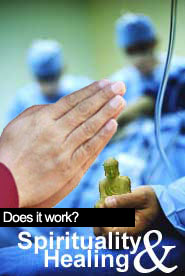 For each of the next eight days, the healer will pray 20 minutes for the cancer patient's recovery, without the woman's knowledge. A surgeon has inserted two small fabric tubes into the woman's groin to enable researchers to measure how fast she heals.
The woman is a patient in an extraordinary government-funded study that is seeking to determine whether prayer has the power to heal patients from afar -- a field known as "distant healing."
While that term is probably unfamiliar to most Americans, the idea of turning to prayers in their homes, hospitals and houses of worship is not.
In recent years, medicine has increasingly shown an interest in investigating the effect of prayer and spirituality on health. A survey of 31,000 adults released last year by the national Centers for Disease Control and Prevention found that 43 percent of U.S. adults prayed for their own health, while 24 percent had others pray for their health.
Science has only begun to explore the power of distant healing, and the early results of this research have been inconclusive. In an article published in the Annals of Internal Medicine in 2000, researchers reported on 23 studies on various distant healing techniques, including religious, energy and spiritual healing. Thirteen of the 23 studies indicated there are positive effects to distant healing, nine studies found no beneficial effect and one study showed a modest negative effect with the use of distant healing.
While some scientists oppose such studies on religious or scientific grounds, others question whether it is possible to devise a scientifically valid method for measuring something as nebulous as the power of prayer:
What constitutes a "dose" of prayer? How does one define prayer? Is channeling Buddhist intention or reiki energy the same thing as praying to a Judeo-Christian God? And how do you determine whether it was prayer that made a patient better, or something else, such as the placebo effect?
"There are enormous methodological and conceptual problems with the studies of distant prayer," said Richard Sloan, a professor of behavioral medicine at Columbia University in New York. "Nothing in our understanding of our universe or ourselves suggests how the thoughts of one group of people could influence the physiology of people 3,000 miles away."