Meditation effective for chronic pain: study
by Avis Favaro, CTV.ca News Staff, Aug 28, 2005
Toronto, Canada -- Canadian doctors have presented a study that shows promising results for using meditation to treat chronic pain. The study was spearheaded by Dr. Jackie Gardner-Nix, who runs a meditation program at the Sunnybrook and St. Michael's hospitals in Toronto.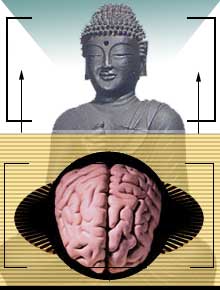 "We are decreasing their bodily pain, we're decreasing the intensity of their pain and we're increasing their quality of life," Gardner-Nix told CTV News.
She turned to meditation techniques when she found that pain medications were inadequate for some patients, who continued to suffer or had to endure side-effects.
"I've been an expert in pain medications for a long time – many years – and what I found was that they only did so much," Gardner-Nix said.
She now treats chronic, untreatable pain with a technique called mindfulness meditation. Her method is based on a program created by Dr. Jon Kabat-Zinn at the Stress Reduction Center at the University of Massachusetts. Many experts see Kabat-Zinn as a pioneer in the use of medical meditation, and Gardner-Nix studied with him personally.
But while Kabat-Zinn's method is practiced throughout Canada, experts feel there is a lack of data to prove its effectiveness. Through her study, Gardner-Nix found that after 10 weeks involving 10 to 20 minutes of daily meditation, many patients were better able to manage their pain.
Patient Corrine Humphreys experienced chronic pain for over a decade before finding peace through mindfulness meditation. A car accident and spinal injury left her with nerve damage and unending discomfort. It even made simple tasks like driving a car excruciating ordeals.
"I had quit work, I had quit school. I laid in bed and never got out of bed, and basically prayed every day that I would die," Humphreys told CTV News.
She tried various pain mediations, including morphine and Demerol, but even the highest doses were ineffective. Out of options, doctors implanted an electrical implant in her spine to control her suffering, but even that was not enough. Humphreys began to contemplate suicide.
Finally, she turned to meditation. Humphreys was skeptical but felt she had nothing to lose. The results were surprising.
"I was very shocked at how well it worked and how fast it worked for me," Humphreys said.
In fact, Gardner-Nix's program was so effective that Humphreys was able to stop using her pain medication "cold turkey."
Dr. Roman Jovey of the Canadian Pain Society is interested in what patients like Humphreys have to say about meditation, and find Gardner-Nix's study promising.
"There are so many people who are suffering with so few resources that anything that has the potential to help patients manage their chronic pain is a good thing," he told CTV News.
Gardner-Nix's program has taught mindfulness meditation to 370 patients. Her findings were presented during the Australian International Pain Conference on August 24.
So far, data on 45 patients has shown significant improvements in pain management through Gardner-Nix's course. A second study involving more patients will be published later this year.