Tzu Chi offers alternative OB-Gyn care
By Jenny W. Hsu, Taiwan News, Oct 12, 2005
Taipei, Taiwan -- Pregnant women are now being offered at least one more option regarding the delivery of babies. Yesterday, doctors of the Buddhist Tzu Chi Hospital, Taipei Branch unveiled the new Integrative Prenatal and Neonatal Healthcare Supervision plan for mothers-to-be and their babies.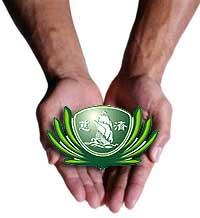 The multi-disciplinary and comprehensive plan includes an innovative room called LDR, specially designed to accommodate all three stages of the delivery process: labor, delivery, and recovery.
In a departure from traditional delivery methods, a new mother in an LDR room is able to use the same bed throughout the entire process without the hassle and the inconvenience of moving or sharing a room with other women.
Acting director of the Division of Obstetrics and Gynecology, Dr. Chu Chun-hong said one of the most distinguishing features of the room is the extra space and a bed next to the pregnant woman, which allows the husband or the entire family to be physically present throughout the whole procedure.
Moreover, the LDR rooms are adjacent to a Chinese courtyard, which offers an ambience of peace and serenity that could help to calm an anxious mother-to-be.
Dr. Yang Jun-guang said the goal of the special prenatal service is to monitor the progress of the pregnancy and to detect any potential problems before they become serious. As part of the plan, pediatricians will conduct four different kinds of ultrasound to detect any fetal abnormalities.
After the baby is born, the ear, nose, throat team will step in to conduct hearing tests on the baby.
Dr. Cheng Ching-Feng, the director of the Department of Pediatrics explained that for a newborn, its hearing ability in the first six months is extremely crucial to its future language development.
To continue to ensure the well being of the baby after it leaves the hospital, the integrative plan includes neonatal clinic sessions to answer any questions the new parents may have about care of the newborns.
Ms. Jing, mother of a 4-month old baby lauded the integrative plan.
"I was treated like an VIP," she said. "The medical team was professional and patient with me. They really put my husband and me at ease. When it was time for the actual delivery, I was calm and ready."
At the moment, there are three LDR rooms available at the hospital. Since May, only 25 couples have opted to deliver their baby in the LDR rooms.
"The LDR rooms are only for mothers who choose to have their baby naturally, Lee said. "Because the same room is used for all three stages of delivery, it will require too much preparation for caesarean sections."
Lee disclosed that it takes approximately two minutes for the staff to prepare the room from one stage to another.