All you need is love
by Krittiya Wongtavavimarn, photo by Yingyong Un-anongrak, Bangkok Post, Dec 2, 2005
Thanks to the loving embrace of his family, Kamol Uppakarn learned how to survive infection with HIV
Bangkok, Thailand -- It has been nine years since that day when Kamol Uppakarn locked himself up in a room, alone in the darkness. He sat in a corner, his eyes fixed on a piece of cloth hanging from the ceiling. The doctor's words echoed inside his head: "I'm sorry. You've tested positive for HIV."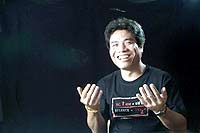 At first, he was speechless. Then came the tears. The then 21-year-old fell into an abyss of no hope. Crushed by guilt and fear, imagining only the ugliness of death, Kamol found it hard to catch his breath. For hours, he did not move. The only thought in his head: "Soon, I'm going to get sick and die. So why shouldn't I die right here, right now?"
Right before he wrapped the cloth around his neck to hang himself, the face of a woman flashed through his mind. It was that of his mother. In the reverie, she grabbed his hands, tightly, and extended her arms a little wider to lift him up.
At that moment, Kamol realised that he was not all alone in the world. The thought that there was always a pair of arms to embrace him became a genuine life force, a source of inspiration for Kamol to accept his new "status" with the virus inside his body.
"Love and care was truly the ultimate cure. It was my mum, with her warm and tender love, who gave me the second chance to withstand this fear and, once again, restart a happy normal life," said Kamol, now chairperson of the Thai Network of People Living with HIV/Aids (TNP+), the support and advocacy organisation coordinating activities of HIV-infected people across the country. Finding love and acceptance while being HIV-positive can be a daunting task. But, for Kamol, the deepest expression of love lies within his family.
"Never a dull moment, never an uncomfortable silence," Kamol said. "Fortunately, I never feel like an outsider in my own home. I never see guilt or disappointment written on the faces of my family members, either. My parents and little sister never ask me why or how I got infected, but always give me great courage to live," he said with a friendly smile on his face.
Now 30, Kamol, outwardly strong and lively, said HIV/Aids - once perceived as a death sentence - has become a part of his life, just like one of his best friends. Every 12 hours he treats his "buddy" with anti-retroviral drugs to help nurture their relationship and prolong his life.
For Kamol, however, the best nourishment that he feels can boost his immune system and account for his nine years of relative well being, is fairly simple - just living everyday life with love and hope even in the midst of his illness. A positive attitude, Kamol believes, is a powerful medicine.
"I think that living a good, meaningful life is more important than worrying about death. If you are able to shrug off the notion of fatality, you will live a healthy and happy life like ordinary people," he said. The shirt he wears carries the message: "Action equals life, silence equals death."
To a certain extent, having HIV helps bring his life into focus and make it more manageable, he said.
"Having HIV is hardly worth it, but it's actually worth it - it has taught me to be stronger and taught me to see things from different angles. And now I'm truly appreciative of my own life," Kamol said.
Before the disease became part of his life, in his teenage years, the former hydraulic technician spoiled himself with drugs and debauchery. He used a daily dose of amphetamines for an energy boost and made occasional visits to "working ladies".
Little did he know. Having had enough of such indulgences, Kamol applied for a job when he was 21. There, waiting for him was a medical test result that showed he had contracted HIV, presumably through unprotected, unsafe sex.
"Since I didn't sleep with professional sex workers who are regarded as members of the 'risk group', I never thought I was at risk," he recalled. "I overlooked the possibility of being infected through unprotected sex with indirect sex workers - those cafe singers, dancers or drink partners - who may also be infected with HIV."
Without information on HIV or access to health services, Kamol said it wasn't easy for him to handle the extra pressure alone, neither could he share his agony with anyone but his family and a few close friends. The first positive sign was when he joined an HIV/Aids support group of the Niranam clinic (Anonymous clinic) based in Nong Khai, his hometown, where he gained access to information, met new people of the same status, and eventually regained his confidence and self-esteem.
Kamol then started to come out to the public by working as a volunteer and campaigner for HIV/Aids awareness. His activities included sharing information about what people living with HIV/Aids are facing and running campaigns to increase opportunities for HIV-positive people.
A common problem among people living with HIV is stigma and discrimination, which have a negative effect on their quality of life and rights as members of society, Kamol said.
"People with HIV have been shamed. Many people I've met have lived lonely lives and died, not because of HIV itself but from discouragement from society. Once, I found a man with HIV who was locked up in a hut in a field and was treated as if he were the virus itself."
The prejudice is strongest in the workplace, he added.
"Far too many HIV-infected people have experienced job-threatening discrimination and are often left unemployed. Although many people with HIV have been responsible for taking care of themselves, and have remained well and healthy, they feel that there are no helping hands, no room for them in society," he said.
In his opinion, the workplace should provide support to HIV-positive people and raise awareness among employers and employees about the infection, including better understanding of and a positive attitude towards those infected.
"Just like other so-called 'normal' people, people with HIV need to have work opportunities, so that they can support themselves and their families."
Kamol pointed out that much of the information available since HIV/Aids was first identified made infected people despair. Most people believed that if they were infected with the disease, they could do nothing more than deal with the situation in silence while waiting to die within a few years from different Aids-related illnesses.
It is only in the last 10 years that anti-retroviral medicines have become available in Thailand. The Government Pharmaceutical Organisation (GPO) has developed cheaper generic drugs, and can now produce a range of medicines such as AZT, d4T and 3TC that have passed quality and efficiency tests.
"Now we have much more access to the relief of symptoms and the fortification of the immune system. With appropriate treatment, we have more opportunities to improve our well being and extend our lifespan," he said. "It seems that the impossible has become possible."
That possibility has given him the confidence to forge his own family, he said.
While other people in his position might refrain from romantic commitment, Kamol embraces relationship and family.
For eight years, Kamol said he has been blessed with a happy life with his wife, who lost her first husband to Aids-related illness and is herself HIV-positive. He is also a happy step-father to his wife's 12-year-old son. Last year, the couple had their own daughter.
Kamol said that though he and his wife conceived their daughter the conventional way - through unprotected sex - they were well aware of the risk. They consulted closely with their doctors and with HIV counsellors and took all the necessary precaution.
According to Kamol, the medicine cannot totally protect the baby from being infected with HIV, but it can reduce the rate of mother-to-child transmission by over 90 per cent. His wife had started taking AZT during her pregnancy. Their daughter also received AZT every four hours during her first week of life.
Fortunately, the girl was perfectly healthy.
Having HIV doesn't make it harder to be a father, he said. He has learned to be responsible and to take good care of his family, especially his new little darling.
"I cried when I first held her tight against my chest, and I felt right away that the greatest thing in life is to be a father," Kamol said, beaming while raising his hands as if holding a baby in his arms. He added that he loves to talk to his baby and to hear her cooing.
"I realised that being positive doesn't mean that I can't be a good father. I am ready to provide her all my love, care and security, and, hopefully, I can see her grow up to be a healthy, beautiful woman.
"I always believe that everyone - whether they are negative or positive of anything - needs passion for life, and it's love within the family that gives me the strength to live."