Science speaks through artistic forms
China Daily, May 24, 2006
Beijing, China -- Of all of Benjamin Franklin's inventions, it was his glass armonica that gave him "the greatest personal satisfaction." The great American scientist and thinker created the unique harmonica in the early 1760s, later dubbing it with the Italian version of the word "armonica."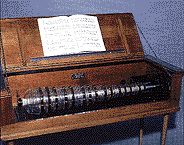 << A Glass Armonica
More than 200 years later, Brian Schwartz, a professor at the Graduate Centre of City University of New York, is developing a science communication programme entitled, "Franklin's Glass Armonica." It includes the history of Franklin's invention and a performance by a professional armonica player.
"What Franklin means is science is not far away from people's life, but something that brings fun and fascination to us," Schwartz said.
Schwartz was among thousands of science communicators worldwide to engage the public in science through plays, music, movies, traditional skills and social debates at the Ninth International Conference of Public Communication of Science and Technology Network, held in Seoul over the past weekend.
For Schwartz, a former physicist, the stimulus to communicate science with art came from an unsuccessful experience.
About 20 years ago, the physics society that he belonged to had an important invention to announce at an academic meeting.
They informed nearly all science reporters in the city, but no one came, Schwartz said. The incident got him to think the ways of how science can engage media and the public. In 2000, Schwartz started to produce a series of science-related art programmes with support from foundations.
Recent efforts included a play called "Einstein's Dreams," a programme named "Science to a Samba Beat," "Einstein Look-Alike Contest," and a science vaudeville evening entitled "Science Valentine."
Schwartz said he felt the most proud of his play "Einstein's Dreams," adapted from a novel by physicist and writer Alan Lightman. The book fantasizes about what the great physicist might have dreamed about in 1905 when he was preparing his three seminal papers for publication.
"We have commissioned Broadway composers, lyricists and writers and worked with them to develop two separate productions of 'Einstein's Dreams'," Schwartz said. A Broadway composer and director who could earn thousands of dollars for one performance, made about US$200 for this play aimed at circulating science.
Actors and staff worked voluntarily. "Perhaps 90 per cent of actors in New York do not have regular plays and they are happy to learn science while practising their skills in our play," Schwartz said.
"Einstein's Dreams" enjoyed a successful four-month run last year. "Theatre, music, dance, and the literary and visual arts can convey the fascinating advances and controversies of science, math and technology," Schwartz said. Studies have revealed many people are ignorant of science and technology.
In his research, Asimiano Bucchi, a professor at University of Trento in Italy, found that many singers convey the idea that science is something alien to human society. In his pop songs, British singer and songwriter Gary Numan, who has remained popular since the 1970s, expresses his anxiety about the impact of the fast developing electronic industry.
Numan describes the new technologies in his songs that are able to change human regeneration, reduce diversified human feelings and discard social traditions.
A US rock band Devo has gone even further with their song "Devolution," asking the question, "What happens next? De-evolution, self execution, no solution."
"Science communication researchers may notice mass media's negative reporting and evaluation of new technologies, and that kind of pop music may plant the negative mood in many people's hearts," Bucchi said.
Contrary to Numan and Devo, people from many developing countries seem to be more enthusiastic about the scientific development.
Tradition has its role
In a case study by Nuta Supakata of Thailand's Chulalongkorn University, Buddhism promotes the use of modern technology to keep traditional handicrafts in the country's poor rural communities.
Like other rural communities in remote areas, those in Pongkhum Village in Amphur Santisook (668 kilometres from Bangkok in the northern part of Thailand) have difficulties maintaining self-reliant livelihoods.
An expanded commercial economy and consumption-oriented notions have influenced villagers to import more and more merchandise from the outside world.
Even the textiles woven from natural-dyed fabric, a heritage craft handed down from past generations, have been deliberately replaced by the industrial chemical-dyed fabric and slowly disappeared along with the elders.
To conserve and to systematically develop this splendid treasure to nurture village self-reliance, Phra Somkit Jaranathummo, a Buddhist abbot from the Pongkhum Wat, researched the development processes of natural-dyed fabric production.
A native to this village, Jaranathummo is one of the few educated people in the village. In order to conserve the traditional natural weaving technique, Jaranathummo has sought out elderly people across the region, asking them to remember the production process of natural-dyed cotton.
But the monk did not stop at collecting memories. He studied college chemistry courses in his spare time and tested the traditional techniques in modern labs.
He has sought out knowledge and advice from scientists and professors. He repeatedly conducted experiments to combine traditional handicraft and modern scientific theories. As a result, he has revived the traditional workmanship and developed it so villagers can make the traditional cloth more efficiently. Meanwhile, he also explored new crafts, combining modern catalysts into indigenous raw material, enabling the villagers to produce cloth in more colours with more durable colouring.
"Monks and temples are local knowledge centres, and with their efforts, modern science world has been connected with various indigenous knowledge," Supakata said.
Boosting debates
While most science communicators have focused on teaching science to the public, Hee-Je Bak, a professor of science communication at South Korea's Kyung-Hee University, believes they should encourage the citizens to debate with scientists on the impacts of certain scientific advances.
Bak said that much science popularization work has been done, but the public is still at a disadvantage when it comes to talking with scientists. Scientists, meanwhile, are often reluctant to talk with the public because of the knowledge disparity.
"But in the social debate, such as those on genetically modified crops, scientists are forced to stand up to defend their research and spread the knowledge to the public," Bak said.
If science communicators could play their role in helping develop a regular social debates on science and technology, especially for the developing countries, science communication could be achieved in a more efficient way, Bak said.