A Beverage called Zen
Republished from Zenunbound.com, November 26, 2004
San Francisco, USA -- A dairy drink called Zen, produced by the French company Group Danone, has been introduced in Ireland and Belgium, and if it succeeds there, likely will be marketted throughout Europe, according to dairy-sector reports on the Internet. With many in the Zen community committed to a vegan diet, it is troubling that a dairy product has been named Zen.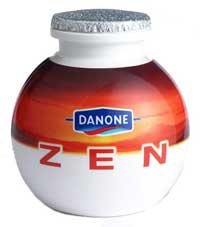 The drink, described by one source as subtle tasting and smooth textured, is being promoted for evening consumption due to its muscle relaxation properties, the result of a 90-milligram booster shot of the mineral magnesium suspended in each 100-gram spherical bottle.
Probiotics, the adding of ingredients to food products for believed-healthful properties, is a hot topic and booming industry in Europe where Danone promotes itself as edgy and dynamic. At the Danone website, it says company values are Boldness, Passion and Appetite for Challenge. Boldness they define as being "opposed to bureaucratic security. It symbolises the desire and capacity to take risks and explore new, unorthodox paths. It also implies the ability to endure and overcome failure."
Group Danone is a worldwide producer and distributor of food products, with dairy being one of its core businesses. Dannon yogurt and Evian water are the most prominent products it markets in the United States.
Web sources, including Acu-cell and Diet Information, say that magnesium is helpful in reducing stess and promoting a healthy cardiovascular system. In combination with calcium, it is the so-called "gold standard" for the mineral-supplement industry. While supplementing one's intake of calcium and magnesium is beneficial for most people, an overabundance of these minerals in a person's system will cause negative health effects.
DairyReporter.com says, "Zen is being launched onto a market of health-conscious and educated consumers. Belgium is often used as a test market. ... The Belgians are ... considered some of the healthiest people in the world, with a 2002 survey by the London-based World Markets Research Center finding it the healthiest nation out of 175 included in the survey."
The tie to Zen Buddhism by Danone is overt and comes across in industry reporting. At New Nutrician Business online, an article about the product is titled "Danone helps Ireland find the way to Zen." An article at Dairy Foods Magazine online says this: "Zen is designed to be consumed at the end of the day, according to [Danone]. In fact, the term Zen is a reference to the Japanese teaching that the only way of achieving pure enlightenment is to exclude everything else. This comes from meditation, or more simply, relaxing one's muscles before going to sleep."
The growing direct association of Zen with mere relaxation is troubling. When this occurs on top of a failure in sensitivity by a large international dairy business that doesn't appreciate that a great many Zenists are vegans, it is a disappointment.
This article was originally published on Zenunbound.com
http://www.zenunbound.com/2004/11/beverage-called-zen.html