'Zen of Eating' on self-help series menu
Hometown Weeklies, Dec 29, 2006
Michigan, USA -- The unique Self-Help Series offered by the Royal Oak-based Center for Creative Living and sponsored by the Friends of the Royal Oak Public Library kicks off the new year with a program that offers an alternative to ineffective fad diets.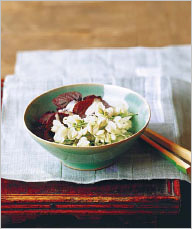 Registered dietitian and yoga instructor Beverly Price will present "The Zen of Eating -- Reconnecting with Food," from 7-8:30 p.m. Wednesday, Jan. 10, in the library auditorium. Price will draw from the book "The Zen of Eating: Ancient answers to modern weight problems," by Ronna Kabatznick, Ph.D.
According to the author, from a Buddhist perspective, overeating is a disorder of desire. Kabatznick applies principles of Zen Buddhism to help readers find freedom from eating problems and the desire that creates them. The goal is to discover "The Middle Way," a balanced state of mind that will help you navigate through the extremes of indulgence and self-denial.
"The series has been going well," said librarian Mary Ann DeKane who brainstormed with the Center for Creative Living. "Megan came to us and asked about presenting her live harp music program (Music for Relaxation). She did the program at the Clawson Library and they thoroughly enjoyed it."
Programs on meditation, "fearless" aging, self-esteem, the elements of a healthy marriage and the benefits of music are scheduled, all presented by Center for Creative Living therapists who are licensed and/or certified in their specialty. There's no need to register for the free programs. DeKane said the library auditorium holds 150 people.